9 Best Typeform Alternatives in 2023 (features & limitations)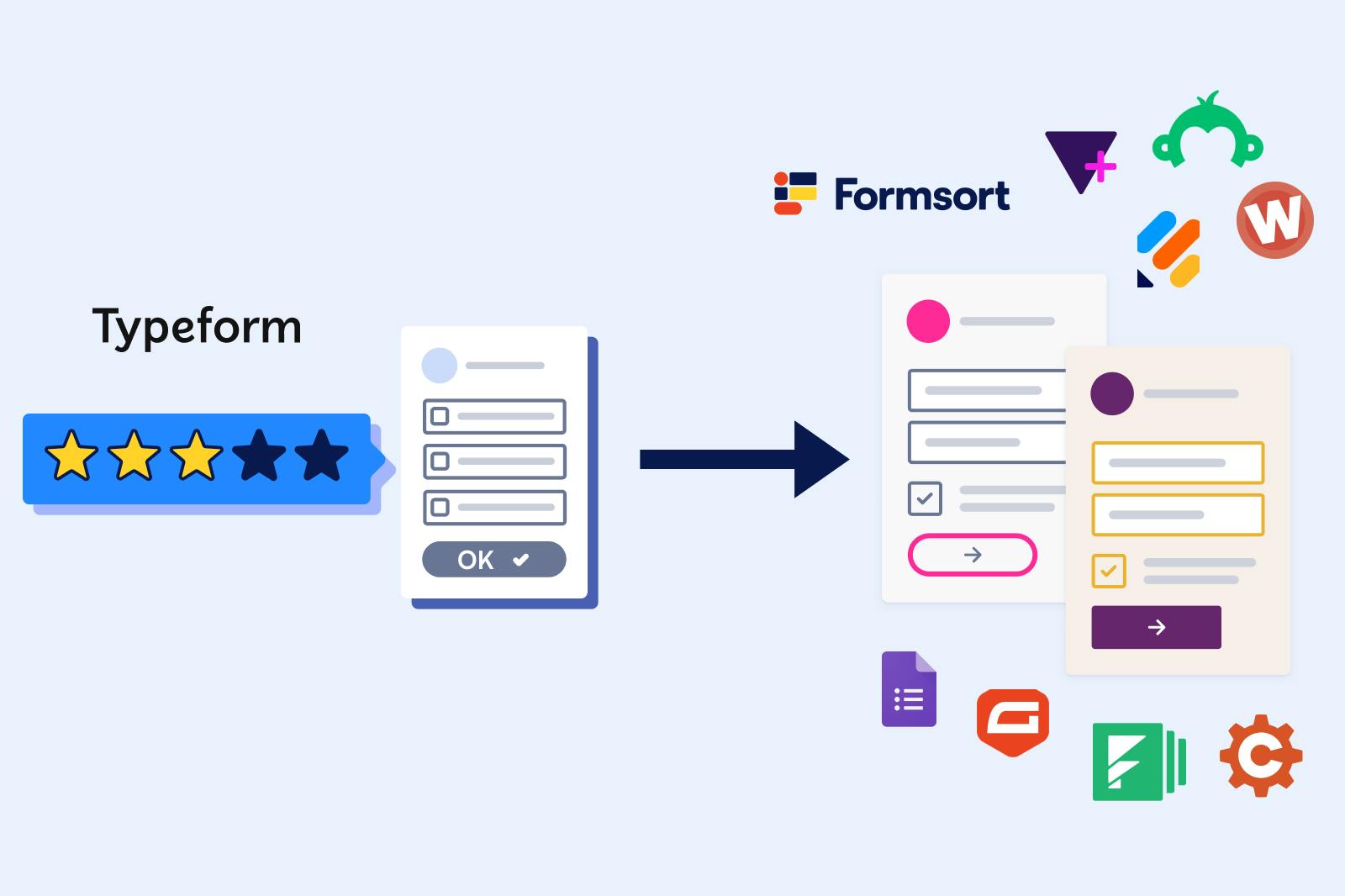 Typform alternatives & competitors for simple and complex forms
Online forms have become an indispensable tool for modern businesses due to their efficiency in data collection, record keeping, and payment processing. They're also an opportunity to have a structured conversation with customers to help build trust and inform them about products. As technology advances, form builders are continually improving and introducing new features to enhance user experience and streamline data processing.
Typeform is one of the most popular form-builders, known for its intuitive design and engaging user experience. It's been around for a while and people know it's a reliable choice to build simple, clean forms. However, it does come with certain limitations and you might need a platform with more advanced features. Among the many alternatives that have emerged in recent years, several offer unique capabilities that might better fit your needs.
In this article, we'll take a closer look at some Typeform alternatives, highlighting platforms that offer enhanced customization, a selection of templates, and seamless integrations. Whether you need to create product quizzes, patient intake forms, or contact forms, these platforms provide practical solutions.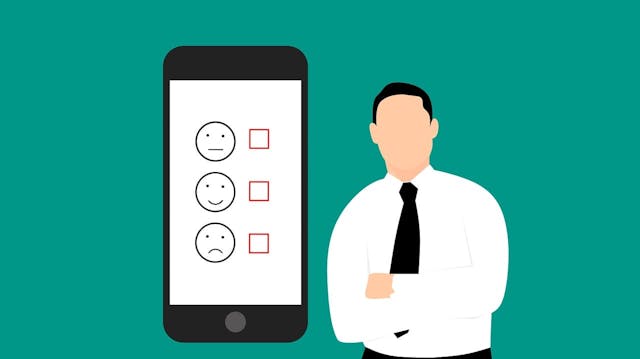 What is Typeform?
Typeform is an easy-to-use tool for creating simple surveys and forms. Its intuitive no-code drag-and-drop flow-build interface is easy enough for beginners to build forms quickly. With basic branching logic and some integrations available, Typeform is a convenient solution for standard flows that get the job done.
Why consider alternatives to Typeform
Some companies need more from their form builder, like flexibility, stability, developer friendly features, and better support. Typeform has a pre-set layout and just a few customizable components. You can't implement custom CSS or fonts. Forms powered by Typeform can't be fully customized to match your brand because they have limited design options–you can always tell Typeform forms by their appearance.
You're also limited to one question per page, which can be inconvenient when you need more flexibility. And because Typeform can't pre-fill form fields or let you access returning responder data, the form-filling experience can be repetitive and inefficient.
Typeform's platform lacks advanced conditional logic to create forms that adapt to each user's unique journey. A/B testing is not available either so you can't test multiple versions of your flow.
What to look for in Typeform alternatives
When you're in the market for a form builder, considering several important factors can help you find the best solution for your team. They include:
Customization options - To have control over the exact look and feel of your form and to align it with your brand identity, look for platforms that specialize in providing a lot of customization capabilities in both content (e.g. question types, file upload limits) and visuals (e.g layout, colors, fonts).
Integration capabilities - A form is not a stand-alone product and without the right integrations, your form's functionality might be limited. Check if the platform has all the integrations you need to process your form data. For example, you might need:
Pricing and plans - Because there's no one-size-fits-all solution, make sure to check if the pricing and plans match your team's needs. Is there a limit on how many forms you can publish? How many users are allowed in the plan? Do they limit the number of questions you can add to a form? How many flow starts are included? A common issue is that the jump from free to paid plans or between 2 paid plans is too steep. You want a platform whose pricing scale can grow with you, not one you're priced out of within your first few months.
Ease of use - One of the main reasons you're opting to build on a platform over a custom-build is to save engineering resources. It should be easy enough for all of your team members to hop in and work on the form as needed. Is the user interface user-friendly and intuitive? Does it feel contemporary or could their studio use an update?
Advanced features - If you're planning to add complexity to your form, ensure that they have everything you need. Some advanced features you might want include conditional logic and user authentication. While most platforms offer basic conditional logic, only some offer advanced conditional logic that can combine or compare multiple variables to produce highly adaptive/responsive branches, for example. User authentication is an important security feature that allows only verified users to access your forms, and keeps bots out.
Data collection and analysis - Where do they store the data? Is that what you need? Can you analyze the data? There are many data stores and analytics tools out there. You want to avoid data silos as well as use analytics tools that you are most comfortable with. Make sure the platform integrates seamlessly with the tools you need to store, process, and analyze your form data.
Support and documentation - Is their documentation a helpful resource for you as you build your form? Do they have active customer support that will respond quickly to questions not addressed in their documentation?
Industry-specific considerations - Do they offer HIPAA compliance for healthcare companies or are they SOC2 compliant? Do they have integrations with industry-specific software? Will their checkout integrations be the right ones for your customers?
Top 9 alternatives to Typeform
Here are some of the best alternatives to Typeform:
Formsort
Jotform
Tally forms
SurveyMonkey
Formstack
Gravity Forms
Google Forms
Cognito Forms
Wufoo Forms
Formsort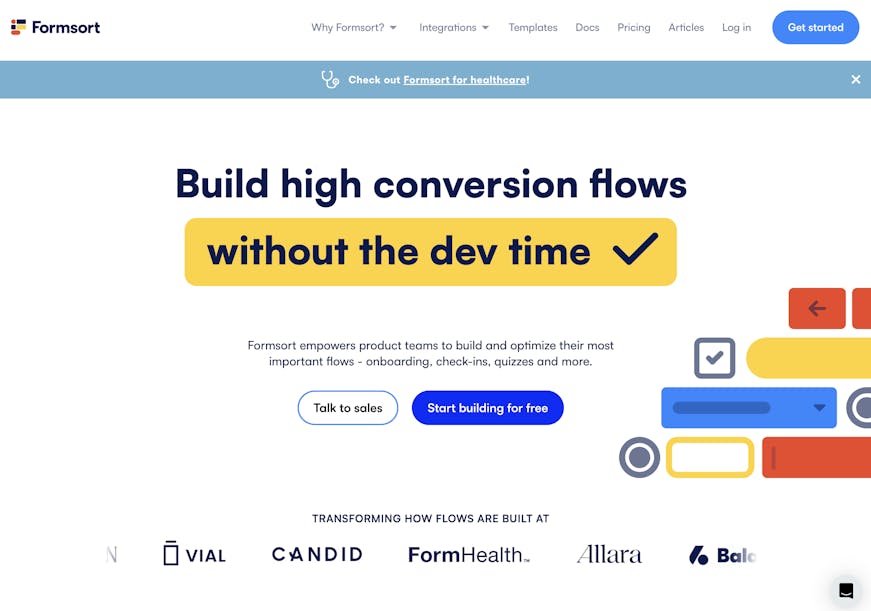 4.8 ⭐s on G2
Formsort's platform lets everyone from novices to developers build sleek, efficient forms. It's designed to grow with customers' needs–from simple use cases with templates and scaling to highly complex flows that can include advanced conditional logic, API and external variables, custom question types and real-time calculations to display quiz scores and product recommendations.
Formsort is an optimal choice for healthcare, fintech, and any other companies with conversion rate sensitive forms. Embed forms in your own webpage with flexible deployment, recover leads with data save and safely test form variants, with testing support for product and engineering teams. Plus, Formsort has a Typeform importer so switching over is easy.
✅ Free plan
✅ Flexible layout 
✅ Calculator
✅ Templates available
✅ Advanced conditional logic
✅ Accepts payments
✅ Field prefill / hidden fields
✅ Partial submissions
✅ File uploads
✅ API variables
✅ A/B testing
Jotform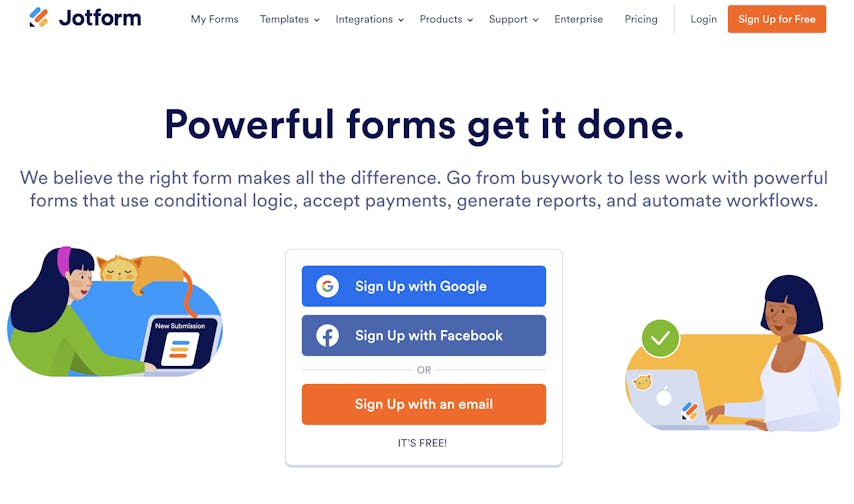 4.7 ⭐s on G2
Jotform is a great alternative to Typeform, especially for young companies that are cost-conscious and need to prioritize functionality over design. Jotform offers workflow automation, which conveniently integrates their forms.
With Jotform, you can build your own surveys and forms or choose from a large selection of templates. Their no-code studio is easy enough for beginners, with limited customization options; and their forms can collect e-signatures, a feature that is growing in importance in many industries.
On Jotform you can pass data via URL parameters, add simple branching logic, and set up email notifications for form submissions. Jotform saves returning responder data but doesn't let you choose the save points. It has integrations for data analytics, storage and payment processing. The platform can have trouble handling frequent changes to your form (variables) but overall Jotform is a practical solution for creating simple signup and payment forms.
✅ Free plan
✅ Calculator
✅ Templates available
✅ Conditional logic
✅ Accepts payments
✅ File uploads
✅ API variables
✅ A/B testing
Tally forms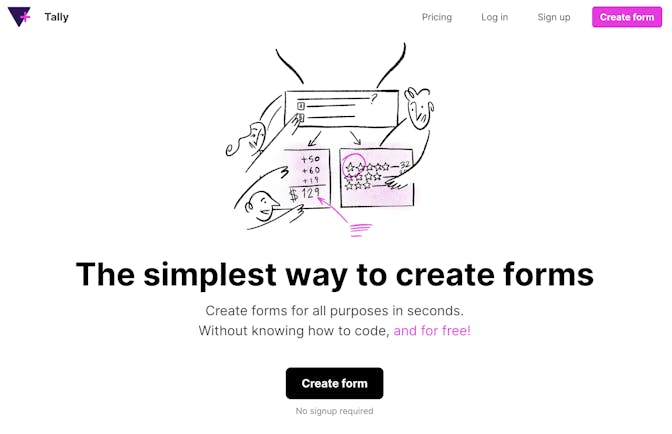 4.5 ⭐s on G2
Tally is a free form building alternative that's optimized for creators, solopreneurs and startups to kickstart their businesses, validate ideas, gather customer feedback, perform market research or sell products online.
Tally's design studio is intuitive and offers great value for your money. The clean no-code design is one of its most attractive features. The interface looks and feels like a notion document. You can create an unlimited number of forms with unlimited questions and submissions for free on Tally's platform. The limit is on features, most of which you can only unlock with the paid plan. For example, you can only get customized domain names with the paid plan. The paid tier also offers custom CSS, custom domains, and shared workspaces for your team.
Tally doesn't have brand-level customization and some of their integrations only work through Zapier. Slow performance can also be an inconvenient part of building on Tally but as a primarily free form builder, it gets the job done for new businesses.
✅ Calculator
✅ Templates available
✅ Conditional logic 
✅ FIeld prefill
✅ File uploads up to 10MB
✅ Email notifications
✅ reCAPTCHA
✅ Unlimited forms, questions, submissions
SurveyMonkey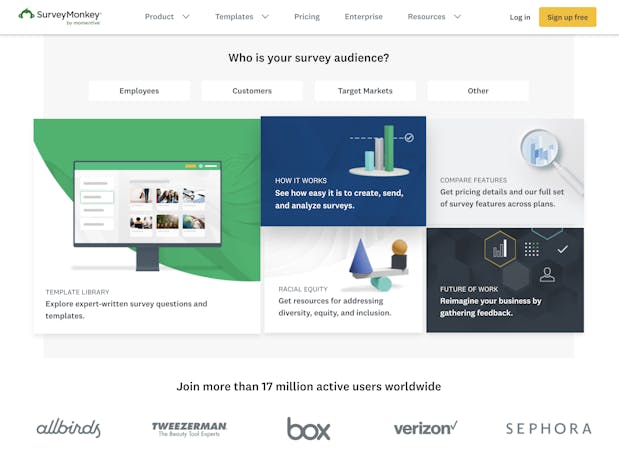 4.4 ⭐s on G2
One of the oldest form builders out there, SurveyMonkey is a reliable survey and analysis tool for many businesses. Big and small companies use SurveyMonkey to collect valuable feedback through one-off surveys and questionnaires. The platform offers a library of survey templates from various industries and a wide variety of question types that makes building simple surveys easy.
While the free plan limits surveys to 10 questions, paid plans offer more flexibility, including unlimited questions, some customization, and a shared team account for easy collaboration. Real-time submission reporting and convenient data visualization also make SurveyMonkey a great option for building basic survey and feedback forms.
If you're focused on improving conversion rates or you have specific needs like HIPAA-compliance, you may need to find a platform that offers more advanced and industry-specific features. There are also limitations to advanced data visualization capabilities. For example, comparing variables between surveys or grouping surveys for easy comparison may be challenging. Some customers have noted that the increasing price points may not be justified by the product value.
✅ Templates available
✅ Conditional logic
✅ Accepts payments
✅ File uploads 
✅ Email notifications
✅ Field prefill
✅ A/B testing
Formstack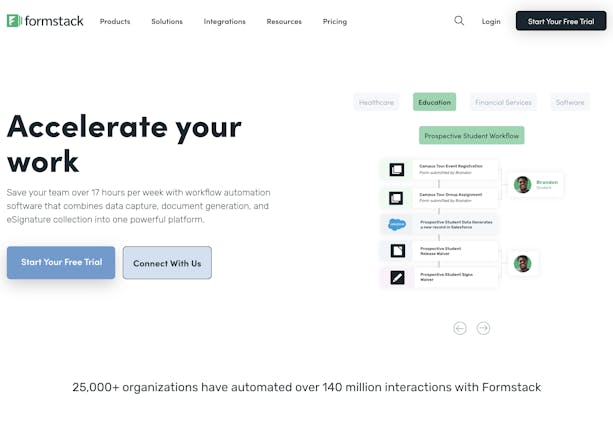 4.6 ⭐s on G2
Formstack is primarily a workflow automation platform that includes a form building tool for intake forms, registrations, secure payments and surveys. The drag-and-drop no-code tool includes some conditional logic and customization capabilities. It lets you send email notifications and confirmations to responders. You can also export data into Formstack's integrated analytics platforms for easy data visualization and analysis.
For companies that are focused on workflows where forms are part of the process along with generating pdfs, signing documents, etc. Formstack is a practical solution. Formstack's studio design is a bit outdated so their UI/UX aren't optimal. They don't have A/B testing so if you're routinely experimenting to optimize your form, this missing feature might be an issue. But for simple workflow related forms for your team, Formstack is a good alternative to Typeform.
✅ Flexible layout 
✅ Calculator
✅ Free plan
✅ Templates available
✅ Field prefill 
✅ Conditional logic 
✅ Accepts payments
✅ Workflow automation
Gravity forms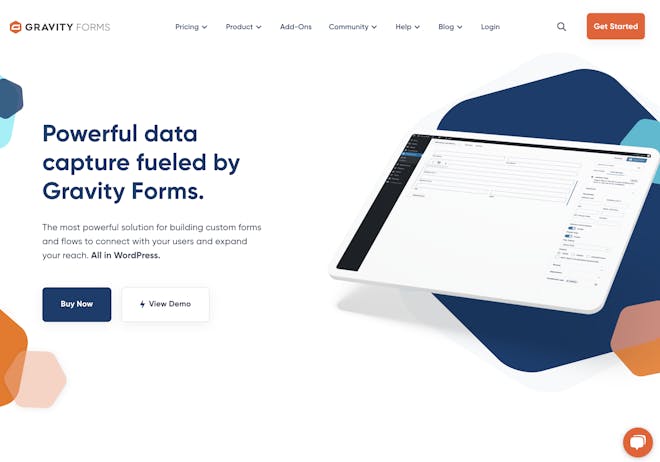 4.7 ⭐s on G2
Gravity Forms is a paid form plug-in for WordPress users. It lets web professionals quickly build solutions for collecting, managing and sharing data. You can create contact forms and ecommerce forms on their drag-and-drop form building platform. Gravity Forms integrates with all of the platforms connected with WordPress.
Their forms are mobile-friendly and somewhat flexible, allowing you to build either single or multi-page forms with some branching logic, data validation and variable calculation. The design customization is limited to the most recent default WordPress themes. They don't offer a free plan but their basic plan is reasonably priced.
✅ Calculator
✅ Templates available
✅ Conditional logic 
✅ Accepts payments
✅ Partial completed answers
✅ File uploads 
✅ Email notifications
✅ Field prefill
Google forms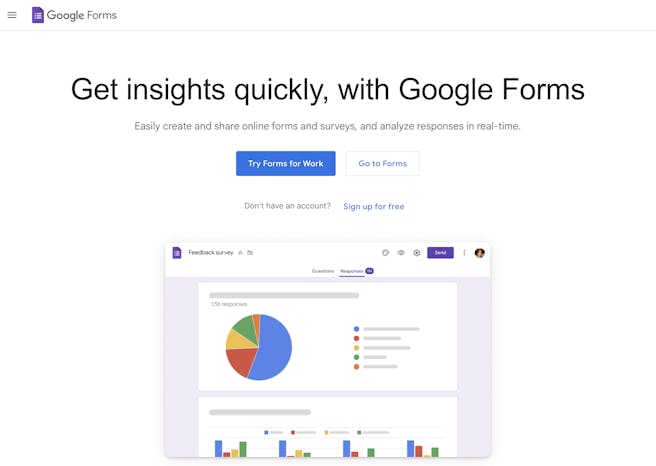 As a fully integrated part of Google Workspace, Google Forms is a free alternative for building quick surveys and simple forms such as event registrations. You can also create quizzes with scores. Google Forms produces automatic summaries and converts results to Google Sheets for more in-depth analysis.
You can add your company's logo and colors to achieve some level of customization but overall the Google Forms design is distinct and easily recognizable. So if your company is design-centered, you might need a more customizable platform. You can also set up simple branching, although it doesn't offer more advanced logic. Google Forms can't process payments and doesn't integrate with apps outside of Google Workspace so its use cases are limited.
✅ Free
✅ File uploads
✅ Partial submissions
Cognito Forms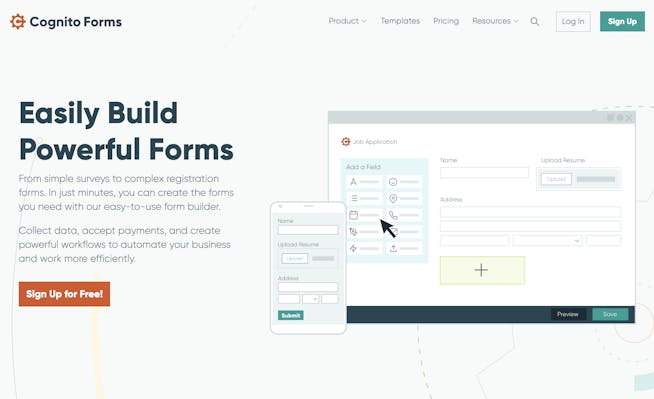 4.5 ⭐s on G2
Cognito Forms is an affordable solution for internal workflow automation. Intuitive and easy enough for novices, it also has advanced features that developers can use to customize their forms. Their styling options are somewhat limited. Cognito Forms offers payments processing and data analytics with SharePoint.
Users would like to see some more native integrations but most tools can be connected easily through Zapier. Cognito Forms doesn't allow converting forms into PDFs or importing data from another form. But their customer support and overall strong product make Cognito Forms a reliable form builder.
✅ Free plan
✅ Calculator
✅ Conditional logic
✅ Accepts payments
✅ Partial completed answers
✅ File uploads 
✅ Email notifications
✅ Field prefill
Wufoo forms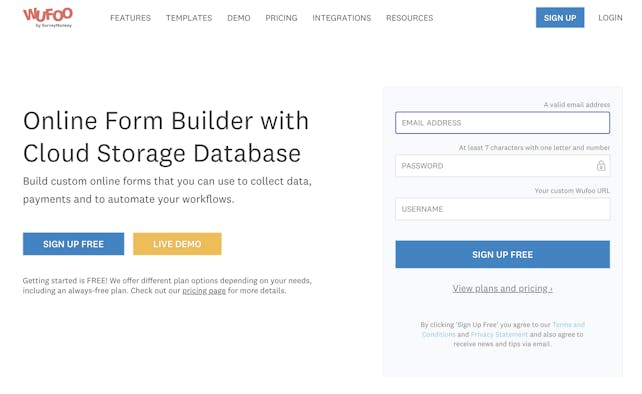 4.2 ⭐s on G2
Wufoo (acquired by SurveyMonkey in 2011) is a good alternative for marketing teams that need basic software with user-friendly form building and survey options. You can build your own marketing surveys, client check-ins, application forms, website surveys and event registrations or use the Wufoo templates.
File upload, payment processing and real-time notifications are all great features of this platform. The studio UI/UX is somewhat outdated and navigation isn't fully intuitive. It doesn't have the robust infrastructure to allow complex form builds. However, it's a good place to start if you want to build surveys and basic forms.
✅ Flexible layout 
✅ Free plan
✅ Templates available
✅ Field prefill 
✅ Conditional logic 
✅ Accepts payments
✅ File uploads
✅ Workflow automation
Ready to make the switch?  
Form builders range from free and clunky to professional and pricey. It's important to understand your form building needs and find the right product for your team. Formsort is a great solution for teams looking to create beautiful, seamlessly integrated forms that are secure and compliant.
Evaluate your form with our free form grader, which assesses various aspects such as content, structure, error messages, design best practices, accessibility, and more, allowing you to optimize your flow and ensure you don't miss any opportunities. 
Let's find the right form solution together. Get started here.