7 best HIPAA-compliant form builders for patient intake in 2023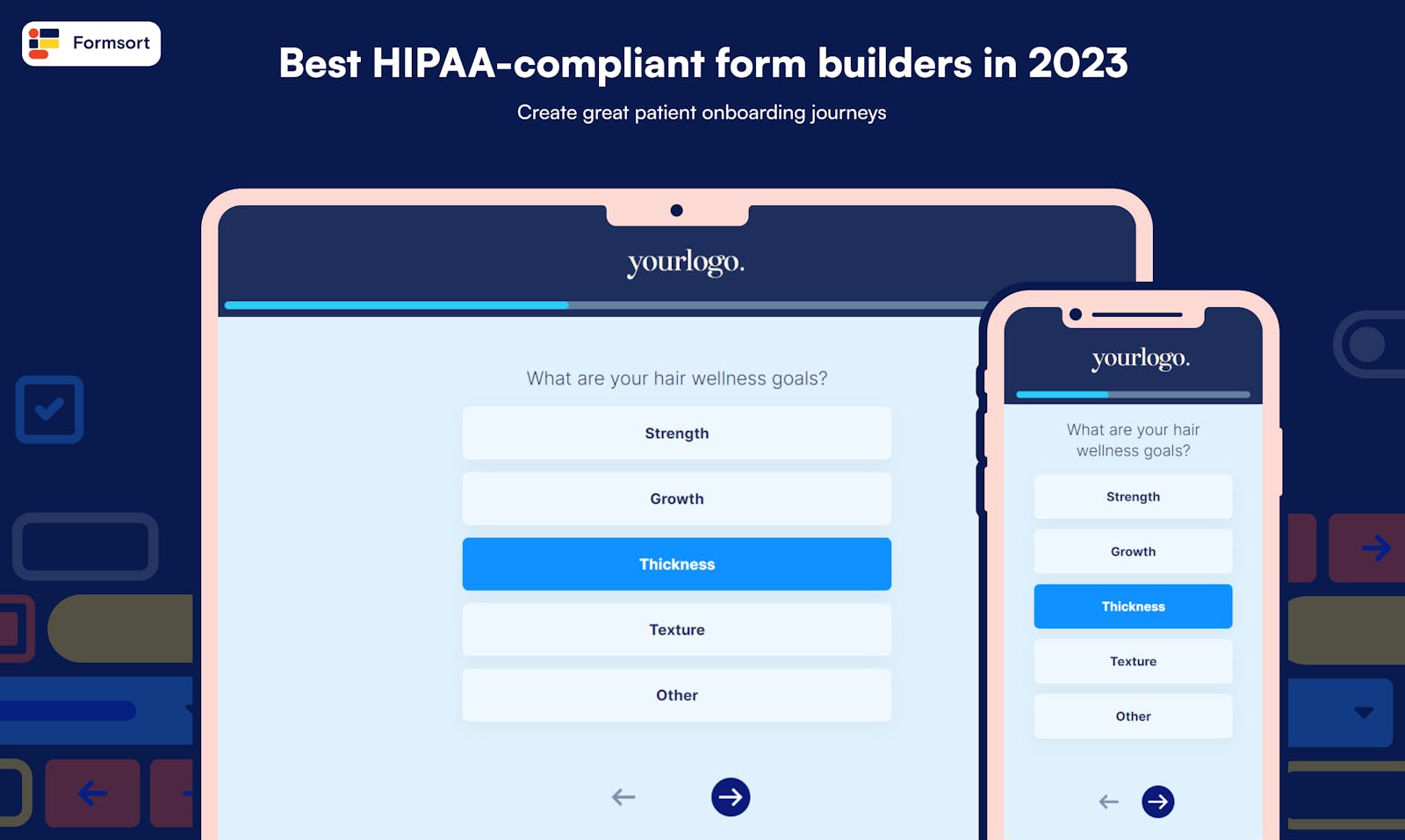 Learn how to create hipaa compliant forms for online patient intake
Digital health companies that need to securely capture and process patient information usually rely on HIPAA-compliant form builders. Forms that follow HIPAA regulations establish trust with potential leads and current patients, streamline healthcare workflows, and protect sensitive patient information.
In this article, we explain how the HIPAA laws impact online healthcare forms and list the seven best HIPAA-compliant form builders to power your next patient intake forms, regular check-ins, and patient outcomes.
What is HIPAA?
The U.S. Health Insurance Portability and Accountability Act (HIPAA) of 1996 is a federal law designed to safeguard patient privacy. Patient information like demographic, billing, insurance, and medical data, falls under the category of protected health information (PHI) and must follow HIPAA regulations. Under HIPAA, any business entity involved in the collection, storage, or transmission of PHI must:
handle it securely and with patient consent.
provide patients access to their own records.
protect electronic PHI and conduct risk assessments.
notify patients of any security breaches.
HIPAA compliance assures patients their confidential information is protected and prevents potential legal issues. In the rapidly growing digital health industry, it's essential for all companies to understand HIPAA compliance and to ensure electronic PHI transmission abides by HIPAA regulations.
How do I know if I need to be HIPAA-compliant?
You may need to be HIPAA-compliant if you work directly with patients or handle patient data in any capacity. HIPAA regulations apply to covered entities and business associates. 
What is a covered entity?
A covered entity is an organization or individual that falls under HIPAA regulations. They include healthcare providers, health plans, and healthcare clearinghouses. 
Health care providers include medical institutions such as hospitals, clinics, pharmacies, and other health service and product providers. Individuals who provide care, such as doctors, therapists, dentists, pharmacists, and others also fall in this category. 
Health plans include health insurance companies, HMOs, employer health insurance, and government insurance such as Medicare and Medicaid. 
Healthcare clearinghouses are institutions that electronically transmit medical claims to insurance companies for billing purposes. Navicare/ZirMed, Availability, and Emdeon are some of the largest clearinghouses.
What is a business associate?
Business associates are people or organizations that perform certain functions or activities on behalf of a covered entity. This includes services like claims processing, billing, lawyers, data analysis, outside medical consultants, or other functions involving the use or disclosure of protected health information (PHI).
Form builders serving healthcare companies process or store healthcare data and must therefore meet HIPAA security standards for any form solutions they provide to healthcare companies.   
What is a HIPAA-compliant form builder?
Form builders that are HIPAA compliant ensure the forms built with their software comply with HIPAA's requirements. These forms are designed to collect and handle sensitive healthcare information securely. HIPAA-compliant form builders include the following features:
Data Security: A HIPAA-compliant form builder protects the confidentiality, integrity, and availability of sensitive healthcare information. This includes encryption of data both in transmission and storage. In addition, it includes implementing access controls to limit who can view or modify the data.
Data Retention and Disposal: HIPAA regulations require the form builder to securely retain collected data for the required period and have processes for proper data disposal when it is no longer needed, ensuring that PHI is irreversibly removed.
Business Associate Agreement (BAA): Health care companies using form builders to collect sensitive health information are required to have a signed agreement with the form builder that clearly outlines their responsibilities and obligations in safeguarding protected health information (PHI). There are 2 types of BAA (business associate and covered entity), so make sure to sign the right one.
What are the key components of a HIPAA-compliant form?
Encryption: Forms should be transmitted securely using encryption to protect the privacy of the information.
Access controls: Only authorized individuals should have access to the forms and the information they collect.
Audit trails: The form builder should have a system to track and log any access to PHI.
Data retention and disposal: Proper procedures should be in place to securely store and dispose of the collected data when it is no longer needed.
Business associate agreement (BAA): The form builder should have a signed agreement with you that outlines their responsibilities regarding PHI protection.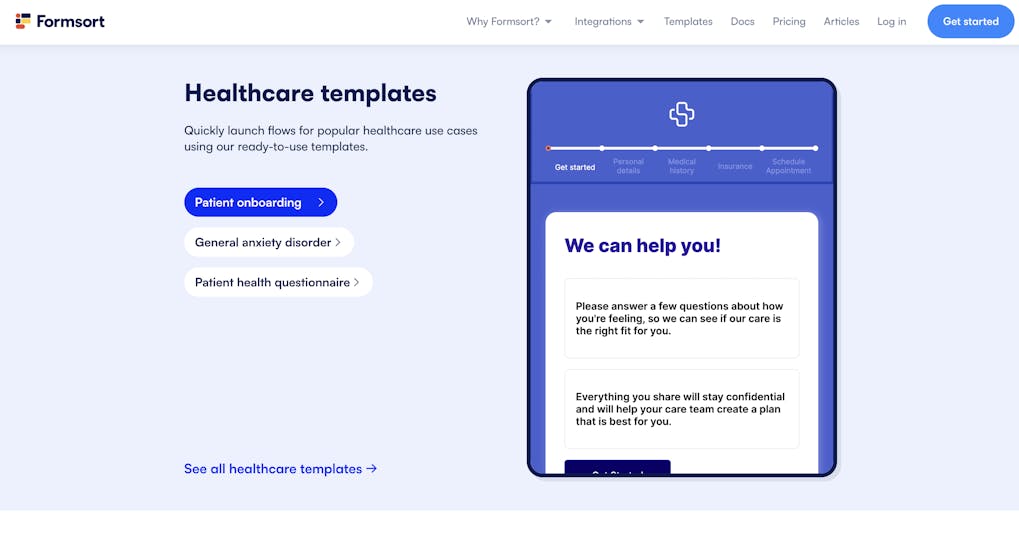 How to create effective HIPAA-compliant patient intake forms
Limit the collection of sensitive information to what is necessary for treatment and payment purposes.
Clearly explain the purpose of collecting the information and how it will be used.
Use secure transmission methods, such as encrypted connections and secure servers.
Ensure the forms are user-friendly and easy to understand for patients. This is not a legal requirement but it's best practice. 
Implement strong access controls and permissions to restrict access to the forms.
The tools you integrate with your form should be HIPAA-compliant as well (for data analytics platforms and data stores).
*Please note that the information provided is not legal advice. HIPAA compliance can be complex. To ensure compliance with HIPAA, you should always consult with a lawyer or legal professional who specializes in healthcare.
Best HIPAA-compliant form builders for healthcare companies in 2023 
Formsort
✅ The Formsort form builder streamlines how you qualify and prioritize leads for optimal care. Powerful conditional logic lets you personalize patient journeys by adapting the flow to their responses. You can use real-time calculations to display assessment scores, pharmacies and drug prices. Plus, you can implement brand design, custom validation, webpage-embedded forms, and data save that lets responders pick up where they left off. 
Formsort is both HIPAA-compliant and SOC II Type 2 certified. Throughout the process, Formsort ensures that form data is secure. Unlike other platforms, Formsort doesn't store data long-term, reducing data breaches risk. By seamlessly integrating with data stores for the secure transmission of sensitive information, so you have complete ownership and control over your form responders' data, putting privacy and compliance first.
❌ New users may face a learning curve due to the platform's complexity. However, it offers powerful features and flexibility that can save businesses time and money. In addition, customer support is available to help users with any questions they may have.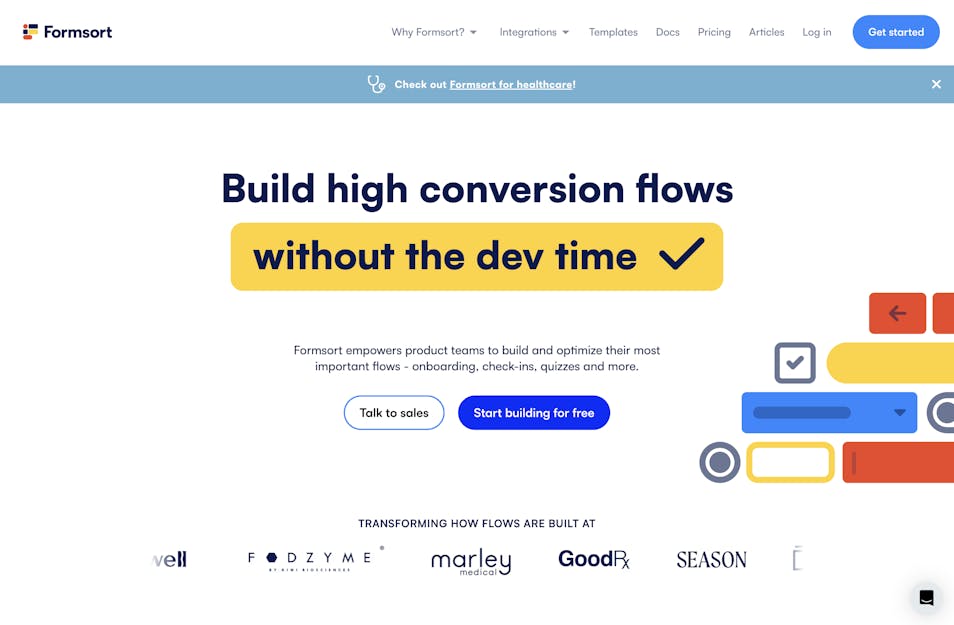 Jotform
✅ Jotform is a easy-to-use form building platform whose drag-and-drop interface and large selection of templates shrinks form iteration times. With customizable on-brand designs, seamless integration, and comprehensive form management system, Jotform is a popular choice to build simple forms. 
❌ On the down side, Jotform doesn't have the branching logic or api variables needed to build more complex forms that adapt to different patient journeys. It also doesn't collect data at each step so if a responder abandons the form, all their data is lost and the lead cannot be recovered. Customers have also reported problems with receiving customer support.
Typeform
✅ Typeform is a no-code survey and form builder that's great for simple, elegant forms. Users like Typeform's conversational form templates and modern visual design. The available integrations and data analytics make it a convenient part of the business workflow. 
❌ Like Jotform, Typeform does not offer the conditional routing logic that digital health forms need to personalize the intake pathway. Plus, you can always recognize a Typeform form because it doesn't support customization for fully on-brand design.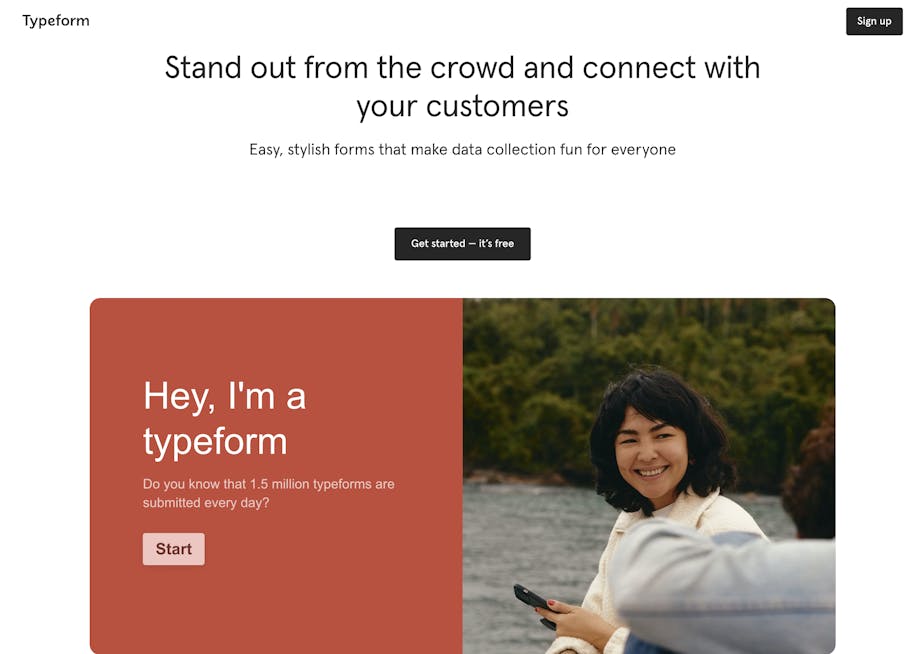 Formstack
✅ Formstack's forms are an effective solution for businesses looking to build no-code forms as part of a workflow. Automation and integration are easy to set up and the product is scalable, allowing you to remove endless paper trails and keeping those not in a single location involved in the process.
❌There are limitations to customizing the form to look and feel like your brand. Plus, they have basic validations based on rules and not custom validations. Submissions are only captured when a Formstack Form is completed and submitted so it's not possible to recover lost leads.
Cognito Forms
✅ Cognito Forms is a cheap product and a good place to start. They also have workflows and roles, which enables different team members to customize a form based on who is working with the form and its entry.  
❌Customers would like to see more integrations and API access between forms. Performance can be slow as well, with long wait times before data is fully displayed. Limited storage for image uploads is a challenge for modern flows, which contain large image and video files.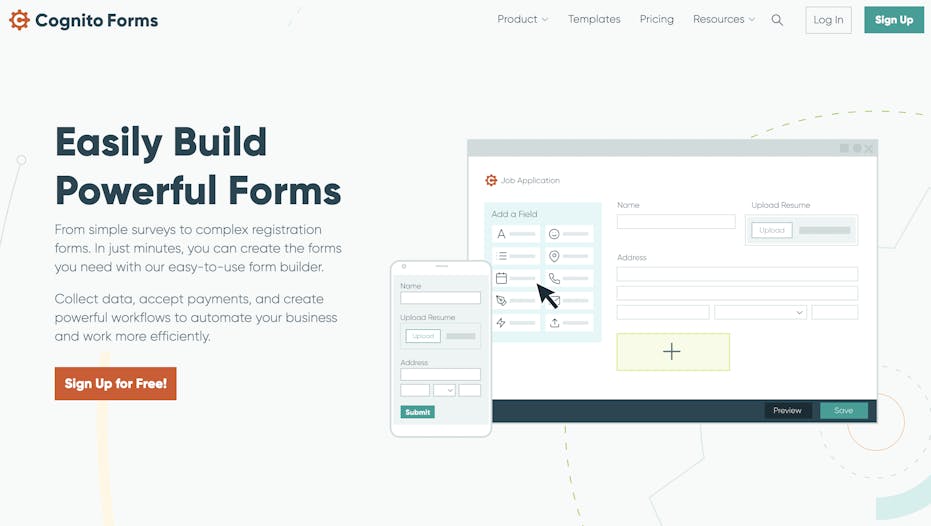 FormDr
✅ Companies can upload PDF forms and start the form creation process by adding form fields directly to the PDF. It's important to note, however, that filling out a PDF form online may not provide the best user experience. Automated emails remind responders to complete forms and submitted forms go directly to the client. A range of templates makes form creation convenient. 
❌ While FormDR offers several customizable form templates, customers have found it difficult to develop their own templates. FormDr's site is frustrating due to occasional freezing and a non-intuitive dashboard. Also, their conditional logic, integrations, and design are basic so they can't support more complex form building requirements. 
123FormBuilder
✅ 123FormBuilder is a GDPR and HIPAA-compliant form builder. Their no-code, drag-and-drop design interface lets all team members work on flows and a wide range of integrations make it very easy to incorporate in workflows. Customers like the templates and praise their customization features, user experience, branching logic, validation, and data collection.  
❌ There are some constraints that make it very cumbersome to create complex logic. Some of the features are not intuitive and some fields do not allow data validation customization.
Ready to build a secure HIPAA-compliant form?
HIPAA-compliant form builders play a crucial role in digital health by establishing trust, streamlining workflows, and protecting sensitive patient information. Healthcare companies must understand HIPAA regulations, so we've highlighted seven of the best HIPAA-compliant form builders.
An optimized digital health form must be HIPAA-compliant, with advanced encryption, explicit consent agreements, and secure data transfer and storage. To be competitive in today's market, it must also be easy-to-use, highly customizable, and mobile-responsive. Start building your next healthcare form with Formsort.