Koalafi optimizes sales efficiency and recovers leads with Formsort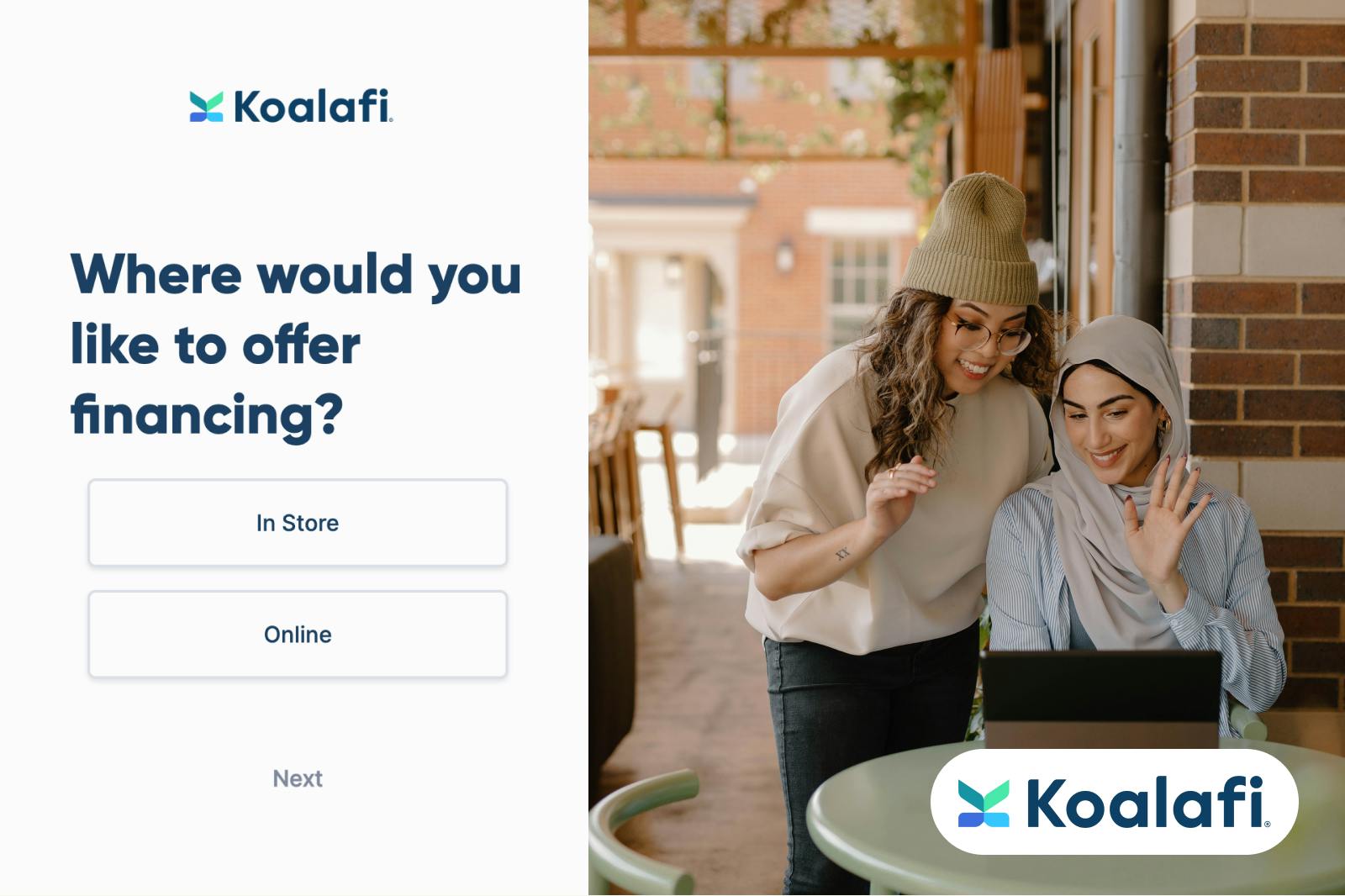 Learn how Koalafi leveraged conditional logic to improve their fintech qualification form
Industry
Fintech - Point of Sale (POS) lender
Founded
2014
Company size
201-500
Company overview
Koalafi offers flexible payment plans and credit-building opportunities for the 47% of U.S. customers who don't qualify for primary financing options, like store credit cards or buy now, pay later options. Retailers can implement Koalafi in-store and online. On koalafi.com, they use a single form experience for both customers and retailers.
As a B2B2C brand that also deals with customers directly, Koalafi was struggling to direct their potential customers through the correct funnels. In particular, their B2B sales team was spending a lot of time calling leads who had mistakenly filled out the "Offer Koalafi" business form flow. Koalafi was losing valuable time on unqualified leads. With Formsort, they were able to leverage a powerful conditional logic solution to send businesses and customers to their own unique paths, which significantly improved their B2B sales efficiency. 
After implementing Formsort's conditional logic, Koalafi saw their B2B unqualified leads drop from 55% to 15%. This freed up sales team resources to better serve their potential clients. Moreover, using Formsort's data saving feature, Koalafi keeps contact information entered at the beginning of the flow and reaches out to lost leads / responders who do not complete the form.
Client challenges: An inefficient flow left good leads obscured in a lot of noise
Koalafi's B2B sales team was inundated with unqualified leads they could only disqualify after manually calling each responder individually. Customers would fill out the form as if they were a business, but in reality, they were just looking for financing at a specific business. Less than half of the B2B form submissions were actual business entities that could partner with Koalafi. 
With daily traffic in the thousands, Koalafi experienced a significant time drain identifying legitimate business leads. Josh Carter, Senior Marketing Manager, Demand Generation & Marketing Operations at Koalafi stated, "Before Formsort, 55% of leads were manually disqualified by a sales rep because they were 1) not in a vertical we do business in, 2) in a state we don't do business in, or 3) customers looking for financing instead of a business looking to offer financing. This was a huge waste of time for them and caused a lot of noise in our CRM."
Josh wanted a form building solution to correctly handle the automated lead qualification process. After trying other form builders, Koalafi tried Formsort to create flows with the sophisticated conditional logic that would improve the B2B lead quality and the flexible customization to stay on-brand.
Powerful conditional logic and brand customization
Koalafi needs to ensure that both businesses and customers get the best experience through their onboarding process. With Formsort, they solved both their logic and design needs. A low-code studio means sales and compliance team members can jump in and edit the flows to: 
test design or content ideas that might improve conversion rates or 
add more questions to get the relevant customer information 
Customization capabilities allow designers to make the form experience on-brand.
"When we came upon Formsort to create branching logic trees, customized form experience for every segment we're trying to go after, it eliminated the noise and helped us focus on the right areas. It's been an absolute game changer for us," said Josh, adding, "From day one, we had a lot more quality leads and were able to provide customers and businesses with a simple, transparent experience."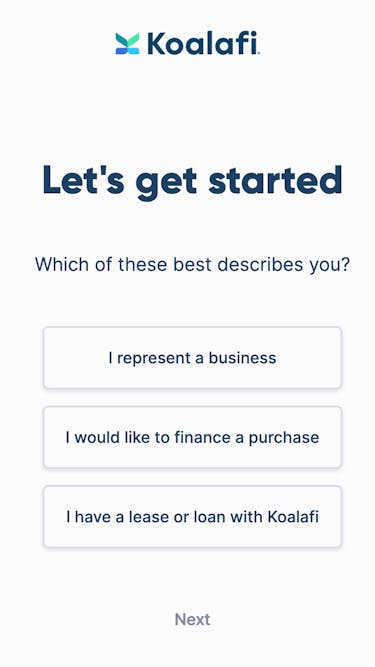 Data saved at each step 
In addition to better quality leads, Koalafi now also has a lot of great data that helps them learn about their clients and convert leads. "The really awesome thing about Formsort, is it stores data on every step versus only when the form is completed, which is a huge challenge with almost every other form solution I know of. [. . .] I'm able to pass the details of every single answer as they come in and tie it to the responder ID." The Koalafi team can leverage this feature to:
Recover lost leads: If a lead drops off, an automated email goes out to them within minutes. This has brought back many responders and increased lead conversion rates. 
Add questions and experiment without fear of drop-off: Koalafi has added questions that help them gain context and route the lead to the right salesperson. Because email addresses are collected early in the flow, Josh knows he can reach out to any responders who abandoned it. He was surprised to see that the longer forms weren't experiencing the high drop-offs he'd predicted.
"Frankly, I was expecting a longer form with more qualification questions to decrease conversion rates. But I think the way it was designed and how the mobile experience was so smooth, it did not impact drop offs as much as I thought it would. I was surprised to see around the same percentage of people complete the form flow–we require an answer on nearly every single question."
Current data on impact of form length on form completion supports this observation: mainly that the quality and relevance of the questions have a greater impact than the length. If responders find value in each question in the flow, they will complete it.
Build customer learning: Josh's team can analyze the incoming data to understand customer behavior. This helps them learn what channels are working best to generate leads and how to edit the flow to maximize conversion. Long-term, this valuable set of data helps them improve their service and grow their business. 
Going live
With the support of Formsort's client success team, Josh and his team launched their first Formsort-powered onboarding flow within just 2 weeks.
Check out an interactive demo of Koalafi's flow:
Results
50%+ of unqualified leads eliminated
With Formsort conditional logic reducing the unqualified lead rate from 55% to 15%, the B2B sales team was able to focus on providing the best onboarding experience to retailers looking to offer non-prime financing. They added questions to their flow that helped them run checks on leads before making the follow-up call. 
"Now, most of those leads are getting automatically disqualified as they engage with our Formsort flow, bringing the rate of disqualified leads a rep has to work down to 15%," Josh stated, resulting in significant time savings and increased efficiency in their lead qualification process.
Overall, Formsort improved the quality of Koalafi's leads by approximately 72.7%. 
13% lost leads recovered
With Formsort's data point save, the Koalafi team is able to reach out to anyone who abandons a form within minutes. They've recovered 13% of those lost leads and gained valuable insights into customer behavior.
Low drop-offs on better-built forms
Now that the engineering is streamlined, the Koalifi team can tailor their flow to their changing needs through experimentation. They've added more questions to help the onboarding process and found that responders are more willing to provide information that enables them to improve services than they originally thought. 
Faster form building time means more resources to improve services 
Not having to build forms in-house has also freed up Koalafi's resources to add functionality and services to their customers, including a store locator on their B2C customer flow.
Sales and compliance teams on the same page
The onboarding flow asks for Tax IDs and other verifiable information that lets the compliance team run checks on each lead before the sales team even calls a potential client. With legal data verified beforehand, sales team members can confidently sign on new B2B customers over a phone call. The entire process has been streamlined by a comprehensive form. 
"I was very impressed by how easy it was to build flows and execute them. You have built an awesome enterprise product that I've been able to jump in and build things out."
-Josh Carter, Senior Marketing Manager, Demand Generation & Marketing Operations at Koalafi.
Level up your next flow with Formsort 
Find out how you can build a customizable Formsort-powered form and save on engineering hours here.