8 Best Jotform alternatives and competitors in 2023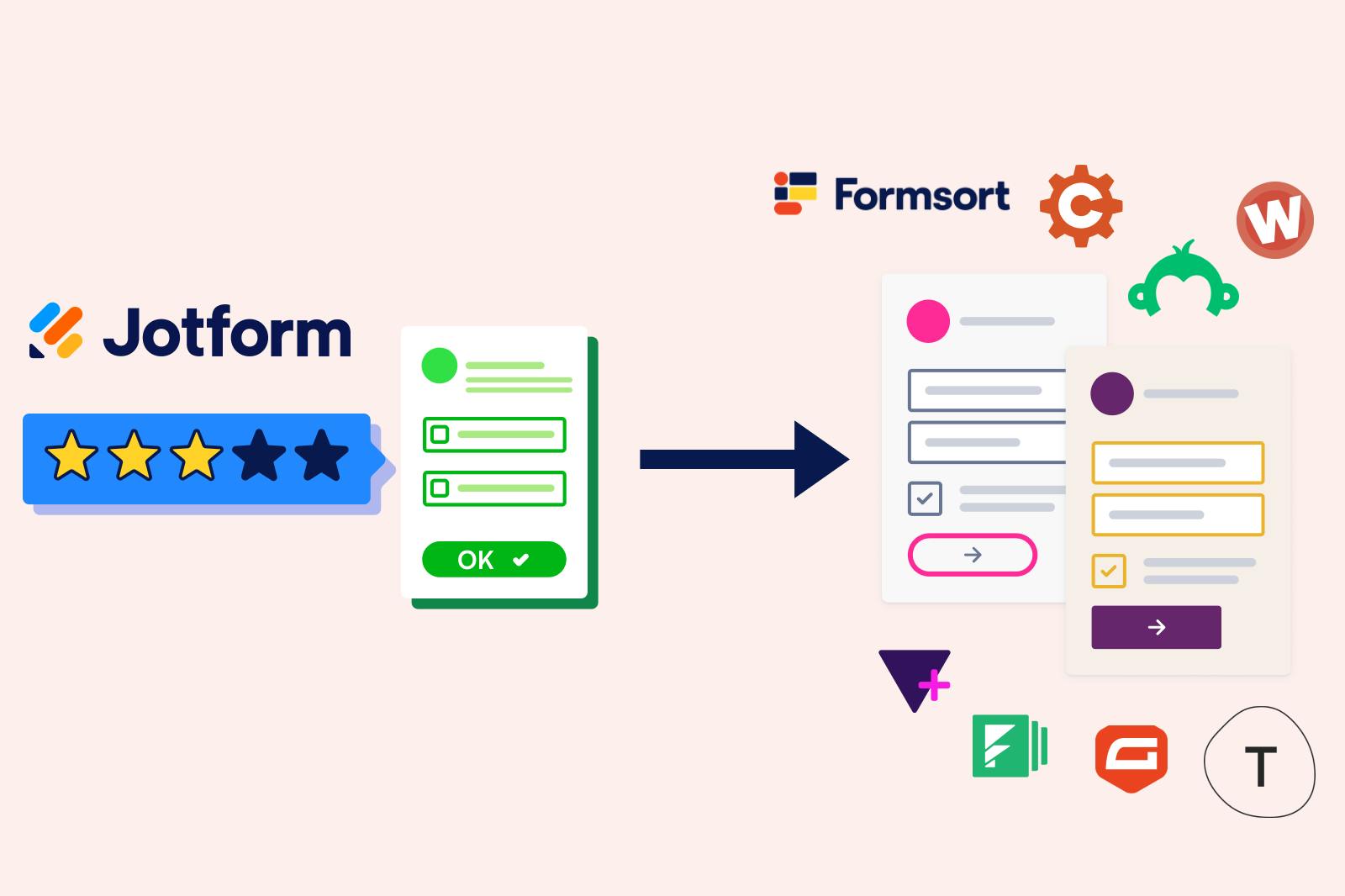 Best Jotform alternatives (free & paid form builders)
Online forms have transformed how business is done–from onboarding and patient intake to feedback surveys and checkout, they've changed the face of information collection and processing. They're also a highly effective way to build relationships with customers; they provide opportunities for organic exchanges of information between businesses and consumers.
Growing increasingly sophisticated to meet the needs of businesses today, forms can offer advanced features like conditional logic, calculated variables, integrations with other apps in the workflow and customizable data visualization.
Jotform, for instance, is a platform that's making forms more intuitive for users and easier for companies to manage. It's a popular solution because it's user-friendly and competitively priced. It caters to the needs of small businesses with features such as basic conditional logic, file upload capability, A/B testing and a collection of templates to build upon.
Companies that need their forms to do more heavy lifting, however, might consider other platforms that offer the features they're looking for. In this article, we'll take a closer look at some Jotform alternatives, focusing on areas of innovation that have made them stand out.
What is Jotform?
Jotform is an affordable form builder designed to create simple, efficient forms and surveys. It offers a collection of templates that makes it quick and easy to create simple forms. With some conditional logic and customization features, as well as integrations with some essential apps, Jotform is a practical solution for creating onboarding and payment forms.
Why consider alternatives to Jotform
While Jotform can be a great solution for young companies, as you grow, your forms may become more complex and need more flexibility, customization, integrations and support. In particular, the Jotform platform is not fully reliable when handling multiple variable changes.
Although simple forms are easy to build, some of the built-in design features are not intuitive and the lack of advanced design customization might feel restrictive for companies to optimize the user experience. Additionally, both page and form duplication can be challenging to configure.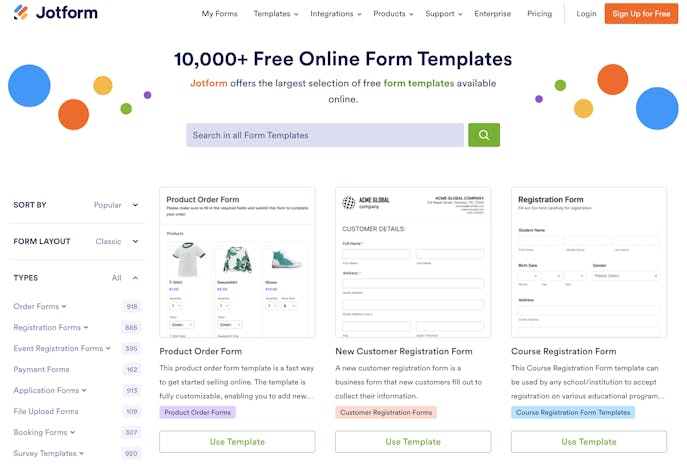 What to look for in Jotform alternatives
Even though there are many form builders, they don't all offer the same features. You need to find the solution that's right for your team. So when comparing platforms, you want to look at some key factors that'll have the biggest impact on your forms. These factors include:
Usability 
If you can't jump into the studio and quickly build a form, if the user interface isn't intuitive, or if the platform feels dated, there might be better solutions out there for you. With so many form builders available, you should be able to select from one of the many that's no-code, intuitive, updated, and aesthetically pleasing.
Customization 
Your form should be able to reflect your design choices and brand identity. You should not be limited by the platform's default settings or limited customization options. To ensure this, look for platforms that specialize in providing the customization capabilities in both content (question types) and visuals (layout, colors, fonts).
Reliability 
Whether your form is a simple event signup or a thorough lead qualification to product recommendation/checkout funnel, you need to be able to rely on:
Form stability - This includes the logic, the design, and all the links. If a form's logic breaks or even if it takes long to load pages, it can lead to lost leads and hurt your business. 
Data handling - Form data has to be stored accurately so that it can be retrieved and processed. Form builders need to ensure that valuable user information is not lost due to their errors in data storage and conversion. Even glitches in data visualization can be frustrating and costly.
Features and functionality 
In addition to the overall look and feel of the studio, the technical and design features can vary greatly from platform to platform. Consider which features your team needs to find the right form builder for you. Features that can add value to your forms may include:
Content Library - If you're planning to build multiple forms or multiple versions of a critical form, content libraries allow you to store and reuse content blocks across flows or variants. They save time and reduce the risk of error since you're not rewriting the same components multiple times. For companies focused on testing for form optimization, content libraries are an important feature to look for in a form builder.
Custom validators - Ensuring you get valid data is essential and yet there are limits to what any form builder can offer by default. Most platforms have some built-in validators such as restricting answer values to numbers or the correct email format. However, you might want to set further restrictions based on the data you're seeking or by checking against the information you already have in your database.
Data capture 
A form is essentially a tool to obtain information–it's what you do with that information that's important. Some form builders keep the submissions, others let you export the submissions, and some require a data store as they don't hold the data for security reasons. Your form builder should be able to connect to a secure data store and transmit the data accurately if you need, especially if you're in an industry that has strict security requirements. You want to pick the right solution for you.
Beyond data processing, forms must be able to perform many functions, from data validation and error reporting to email notifications and workflow integration. You'll also need to work with payment processors, data analytics tools, project management tools, etc. Make sure the platform integrates with the apps you need to store, process, and analyze your form data. Otherwise your form's functionality might be limited. Some important integrations include:
Documentation and support 
No matter how intuitive the tool is, you're going to need support during the form build. Getting effective, timely support is essential for this reason. Does the form builder you're considering have documentation that's a helpful resource as you build your form? Do they have active customer support that will respond quickly to questions not addressed in their documentation? Bugs and glitches are a part of technology so you need to know that help is available when and how you need it.
Plans and pricing 
Some companies offer a wide range of basic features for free. These are great if you want to build many simple forms. Others are pricey but offer advanced features and exceptional customer support. Make sure the pricing and plans match your team's needs. Is there a limit on how many forms you can create? How many users are allowed in the plan? How many form starts are included? You want to choose a platform whose pricing scale can grow with you rather than one you're priced out of within a few months after starting.
Healthcare and fintech considerations 
Depending on your industry, you might need additional features in a form builder. For example, if you're in healthcare, you'd need the platform to be HIPAA-compliant. In fintech, you might need to run credit checks that depend on specific integrations.
Top 8 alternatives to Jotform
Here are some of the best alternatives to Jotform:
Formsort
Typeform
Tally forms
Formstack
SurveyMonkey
Gravity Forms
Wufoo Forms
Cognito Forms
1. Formsort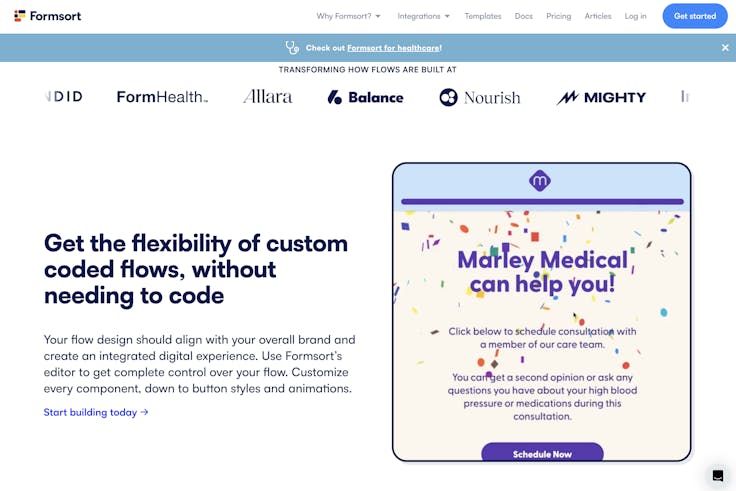 Formsort is rapidly gaining recognition across different industries for its modern forms. With dynamic content, calculated variables, custom questions and advanced branching logic, Formsort forms provide an optimally personalized user journey. Forms can be built from templates or from scratch–and all forms are highly customizable. Plus, flexible deployment means forms can be embedded directly in companies' websites.
For healthcare and fintech companies, as well as any business that needs to handle sensitive information securely, Formsort is an excellent choice. It offers companies an opportunity to optimize their conversion rates with rapid deployment of changes and A/B testing of a few variants. And with the partial data capture feature, even if a user does not submit the form, you can receive the answers and follow up with responders and encourage them to complete the form.
Using Formsort, anyone can learn to create sleek, dynamic forms and engineers can go even further to implement complex use cases using advanced capabilities. And while new users may need some time to master the studio, customer support is available to help them with any questions.
✅ Free plan
✅ Flexible layout 
✅ Calculator
✅ Templates available
✅ Advanced conditional logic
✅ Custom validators
✅ Field prefill
✅ Partial submissions
✅ File uploads
✅ API variables
✅ A/B testing
❌ New users might experience a learning curve with the advanced features in the studio but customer support will help you with any questions
2. Typeform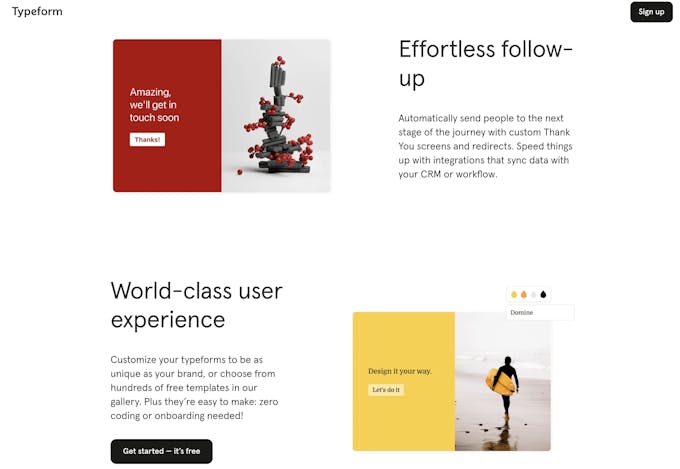 Typeform is a great platform to build simple forms. An intuitive studio means anyone can quickly build forms and start collecting data. Typeform has basic conditional logic, design customization, and integrations that can meet the needs of single users or small businesses.
Even though Typeform lacks advanced features like complex logic and A/B testing that are essential for form optimization, it is a good alternative for basic surveys and quizzes.
✅ Free plan
✅ Basic calculator
✅ Conditional logic
✅ Accepts payments
✅ File uploads
❌ Limited customization means you can tell easily recognize a Typeform form
❌ Variant testing
3. Tally Forms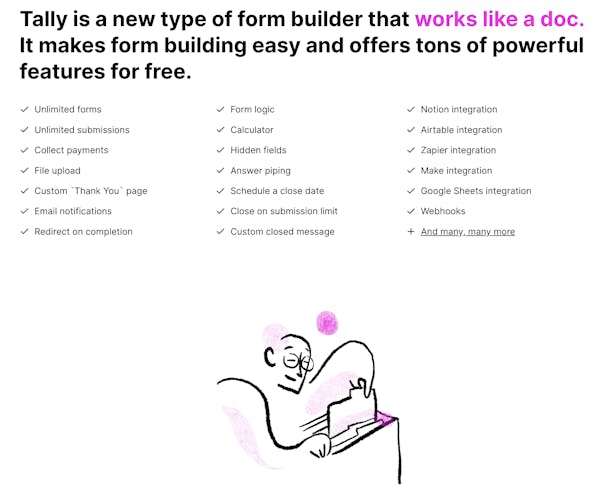 Geared towards creators and freelancers, Tally forms is a new form builder that feels like a notion document. No-code and user-friendly, this platform is great for building quick forms that gather data. You can create an unlimited number of forms with unlimited questions and submissions for free on Tally's platform.
As long as you don't need more advanced features like advanced CSS, or shared workspaces, Tally can fulfill your form building requirements. You can even embed your form, store data, and process payments.
✅ Calculator
✅ Templates available
✅ Conditional logic
✅ FIeld prefill
✅ File uploads up to 10MB
✅ reCAPTCHA
❌ Slow performance and unexpected closures
❌ Team collaboration on shared workspace
4. SurveyMonkey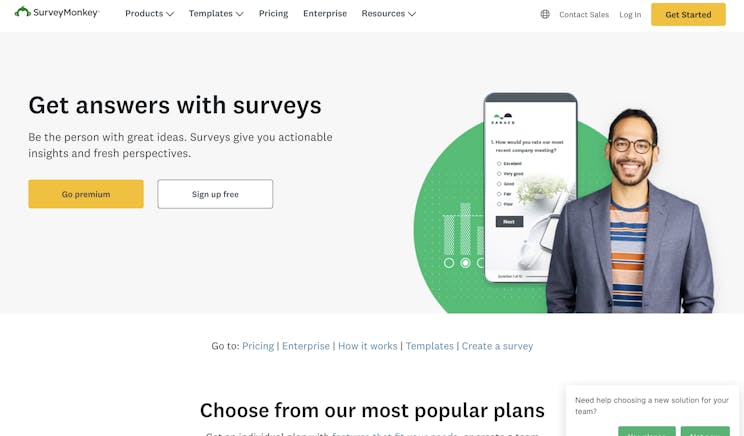 SurveyMonkey is a tried and true survey tool. Their library of templates from various industries and a wide variety of question types lets large companies build single-use questionnaires that yield valuable data. Their real-time submission reporting and data visualization are great features for quick turnarounds.
Important features like design customization, simple branching logic, and shared team accounts are increasingly available only on the paid plan. Plus, if you're looking to boost your conversion rates or you have complex form needs like qualification, HIPAA-compliance, or credit checks, you might need a different solution.
✅ Calculator
✅ Templates available
✅ Conditional logic
✅ Accepts payments
✅ File uploads
✅ Email notifications
✅ Field prefill
❌ Few customization and personalization options
❌ Limited data analysis options
5. Formstack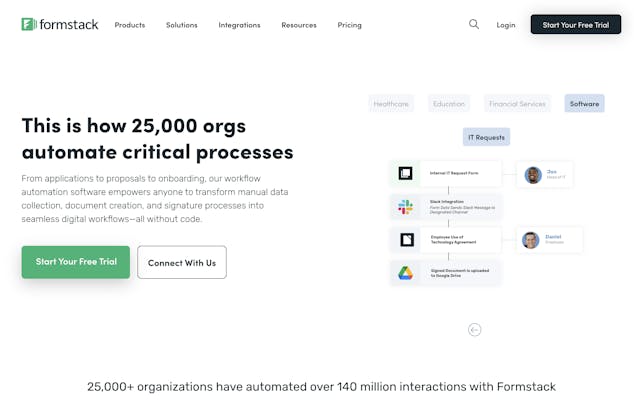 Formstack's intake forms, registrations, secure payments and surveys integrate seamlessly into the rest of its workflow automation platform. Its no-code studio is enough for novices while it still includes features like conditional logic, limited customization, email notifications and confirmations to responders. It also has form field prefill, calculator, and payment processing.
Formstack doesn't have A/B testing, advanced conditional logic, or design customization that are all important features for form optimization. But its ease of use and integration within the workflow tool makes it a good internal solutions alternative for many teams.
✅ Calculator
✅ Free plan
✅ Templates available
✅ Field prefill 
✅ Conditional logic
✅ Accepts payments
✅ Workflow automation
❌ A/B testing
❌ Outdated interface
6. Gravity forms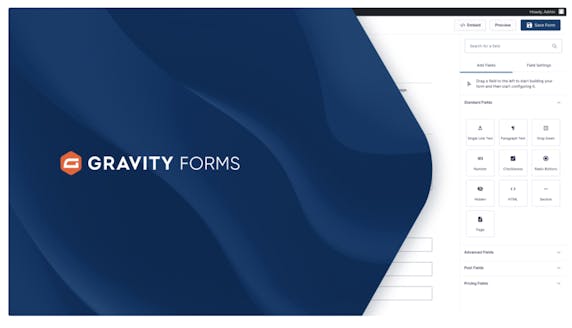 Gravity Forms is the go-to form builder for WordPress users. As a plugin for the platform, Gravity integrates seamlessly into WordPress sites both technically and in its design. It's a practical solution to collect information or get sign-ups, allowing you to build either single or multi-page forms with some branching logic, design customization, data validation and variable calculation.
Gravity Forms does require some time to navigate the studio. Plus, it doesn't have A/B testing, customizable design layout, advanced conditional logic, and other features growing companies need. However, it's a good place to start if you need to build efficient forms that connect to your WordPress site.
✅ Calculator
✅ Templates available
✅ Accepts payments
✅ Partial completed answers
✅ File uploads 
✅ Email notifications
✅ Field prefill
❌ Lacks advanced conditional logic and convenient CSS customization
❌ A/B testing
7. Wufoo forms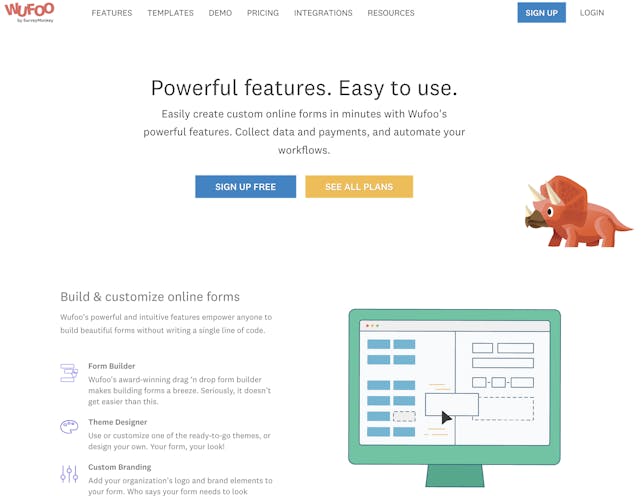 Wufoo (part of SurveyMonkey since 2011) is an affordable form builder with plenty of templates to create quick and efficient forms such as lead generation, applications and online payments. It's straightforward and easy to set up, even with basic technical skills.
While their customization options are limited, other features like file upload, payment processing, and real-time notifications are a plus. It can be embedded directly into your website and integrates easily with other platforms, making it a good alternative to Jotform.
✅ Flexible layout
✅ Free plan
✅ Templates available
✅ Field prefill 
✅ Accepts payments
✅ File uploads
✅ Workflow automation
❌ Design interface is clunky and advanced features not available
❌ Glitches in conditional logic
8. Cognito Forms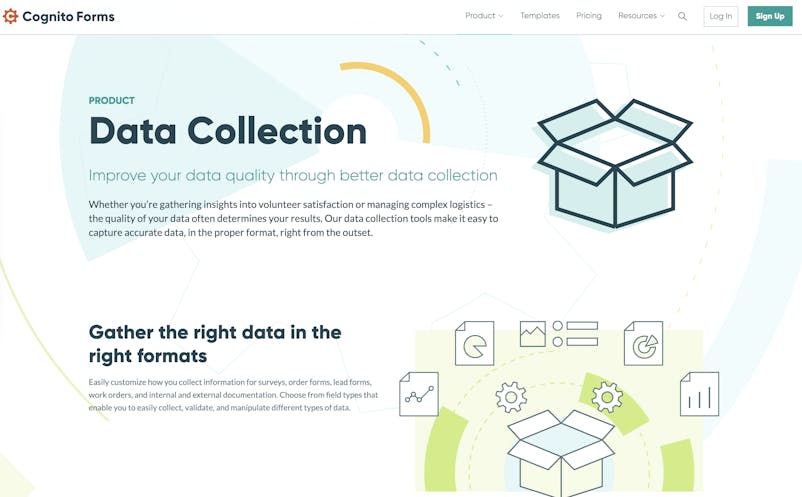 Cognito Forms is an internal workflow automation platform that includes a form building tool for registration and intake forms, HR request forms, and employee management surveys. Cognito Forms has dynamic data input, payments processing and data analytics. Plus, it's an affordable option for startups.
The Cognito Forms studio is not very intuitive and customers say its setup and maintenance take significant time. In addition, it doesn't offer some popular features like customizable loading animation, sliders and stronger auditing that would make it an even stronger alternative. But for basic form-building and workflow automation, Cognito Forms is a solid option.
✅ Free plan
✅ Calculator
✅ Conditional logic
✅ Accepts payments
✅ File uploads
✅ Email notifications
✅ Field prefill 
❌ Forms aren't static
❌ Limited documentation
Ready to make the switch?
Online forms have streamlined the process of obtaining data from the end user and sending that data along any of the necessary pathways. With so many great form builders out there, it's important to understand your team's needs and consider some important features in the existing platforms to find the right fit.
Formsort is an optimal solution for teams looking to create beautiful, seamlessly integrated forms that are secure and compliant. You can learn more about our features here or take a look at some great forms around the web in our gallery Fineflows.