Real-time appointment scheduling for healthcare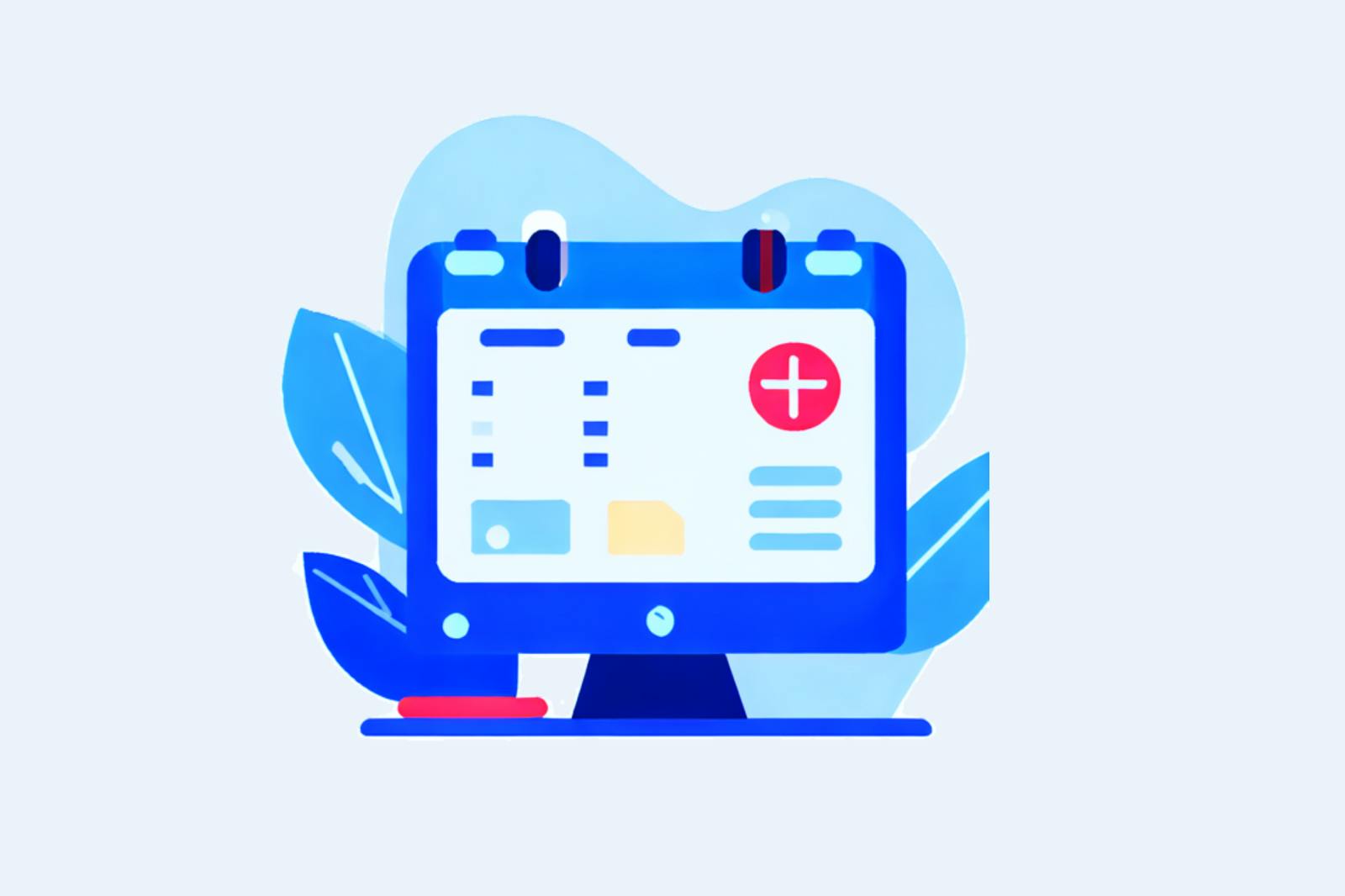 Add HIPAA-compliant scheduling tools to enhance patient care
While many businesses have streamlined appointment scheduling, your clinic may face unique challenges because you're offering healthcare services. Think about it: when booking a restaurant reservation, arranging a car service, or even reserving a spot in a fitness class, clients enjoy the ease of digital scheduling. They appreciate the simplicity of these interactions.
But in healthcare, resource management and heavy regulations can complicate any scheduling tool. Finding a solution that provides a seamless experience for your patients can be hard. As a patient-centered clinic, you value your patients' needs, preferences and time. And you know they're frustrated with a complicated scheduling process that involves entering a lot of information on a form and then confirming everything over the phone before they can even find out what their physician's availability is. So you're scouring the internet for a solution that'll let your patients provide or confirm their details and quickly view their providers' calendar to book an appointment.
In this article we'll delve into the world of real-time scheduling. We'll examine the specific challenges healthcare companies encounter when integrating real-time scheduling into their workflows. Then, we'll explore some of the solutions that are making real-time scheduling achievable in healthcare.
Understanding real-time scheduling for healthcare companies
What are we talking about exactly when we say real-time scheduling? Let's compare it to scheduling a meeting with one of your vendors. Perhaps you need to discuss a project with their sales team lead so you ping her. She sends you her Calendly calendar, populated with her available times for the rest of the week. You fill out a simple form with your contact information and book a meeting with her. Done.
How might this look in healthcare? For a patient, this involves going onto their healthcare provider's website, clicking on the provider or specialty they're looking for, and selecting a time on the calendar displayed. But there's a lot going on in the background (that we'll elaborate on later in the article) to make this seemingly simple interaction possible in healthcare. Only a secure, perfectly synced resource management system can deliver optimal healthcare scheduling. Real-time scheduling software and systems enable healthcare organizations to match patient needs with available resources instantly, minimizing wait times and enhancing the overall patient experience.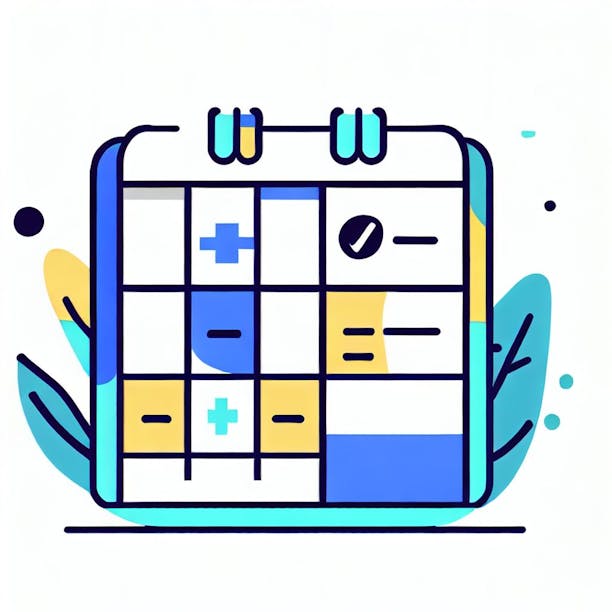 What real-time scheduling is and why it's significant for healthcare
Real-time scheduling refers to the dynamic allocation of appointments and resources as they become available. In healthcare, an optimized real-time scheduling system:
Improves the patient experience and streamlines the booking process so they are more likely to complete scheduling appointments. Lower waiting times and prompt booking service increase patient conversion and satisfaction. 
Lowers operational burden and decreases administrative burnout, while introducing cost savings for healthcare providers. Human resource, medical equipment, and facilities utilization is also improved, with real-time scheduling preventing underutilization or overbooking.
Improves triage, ensuring that patients with different levels of urgency are appropriately prioritized.
This is a tall order for sure but it's also crucial for guaranteeing patients are served well and business resources are efficiently utilized.
Real-time scheduling components
Real-time scheduling depends on effectively running a set of validations to prevent scheduling conflicts and errors, slotting different types of appointments based on expected duration, and making booking available and convenient for prospective patients. Let's take a closer look at each of these systems.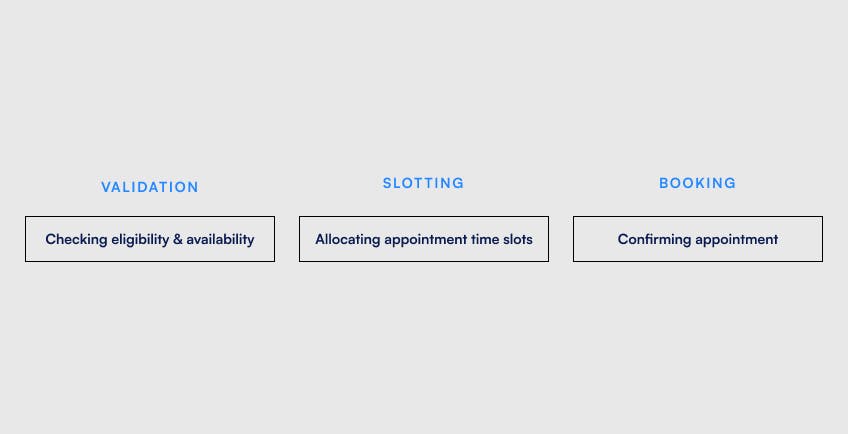 Validation process to prevent conflicts and errors
Validation is the process of ensuring that a requested appointment is possible by checking provider and resource availability, patient eligibility, and that the process is compliant with regulations.
Provider availability: Checking if the requested healthcare provider and support staff are available during the chosen time slot.
Resource availability: Ensuring that necessary resources, such as exam rooms or specialized equipment, are accessible at the selected time.
Patient eligibility: Verifying that the patient is eligible (based on e.g. state of residence, insurance coverage, and medical care needs) for the requested service or appointment type.
Compliance: Ensuring that the scheduling process complies with regulations, standards, and organizational policies, such as HIPAA.
The validation process helps identify potential issues that could get in the way of efficiently providing care, reducing scheduling conflicts, resource strain, and financial problems. Successful validation confirms the requested appointment's feasibility and sets the stage for the next steps in the scheduling process.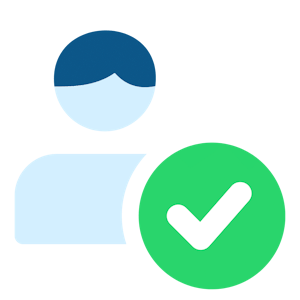 Slotting strategies for optimized appointment allocation
Slotting is the allocation of available time slots for appointments or services based on expected service times, provider expertise, and patient preferences. It aims to optimize resource utilization and minimize wait times and it involves determining when and where appointments can be scheduled based on various factors:
Expected service times: Factoring in the estimated duration of the appointment or service, considering variations for different types of services. For example, different appointment types, such as routine check-ups, urgent care, or specialized procedures, may require different amounts of time.
Provider expertise: Matching the patient's needs with the appropriate healthcare provider based on their specialty, skills, and availability. Plus, even providers within the same speciality can take different amounts of time. Effective slotting takes all important factors into account.
Patient preferences: Considering the patient's preferred appointment times, location, or healthcare provider, if applicable. 
Slotting is data-driven, relying on accurate records to create predictive models. The better your records, the more precisely you'll be able to slot future appointments.
Booking process and patient communication
Booking is the final step in the real-time scheduling process, where the patient confirms the appointment, triggering automated reminders and notifications about wait times and delays. It involves:
Patient selection: The patient reviews the available time slots presented by the scheduling system and chooses the one that best suits their preferences and needs.
Confirmation: Once the patient selects a slot, the system sends a confirmation to both the patient and the provider, securing the appointment in real-time.
Communication: Automated reminders and notifications are sent to patients to keep them informed about their upcoming appointments, reducing the likelihood of no-shows.
Transparency: The system provides information on expected wait times and any potential delays, ensuring that patients are well-informed and prepared for their appointments.
Booking ensures that the selected appointment is locked in and scheduled, allowing for efficient patient management and resource allocation in real-time.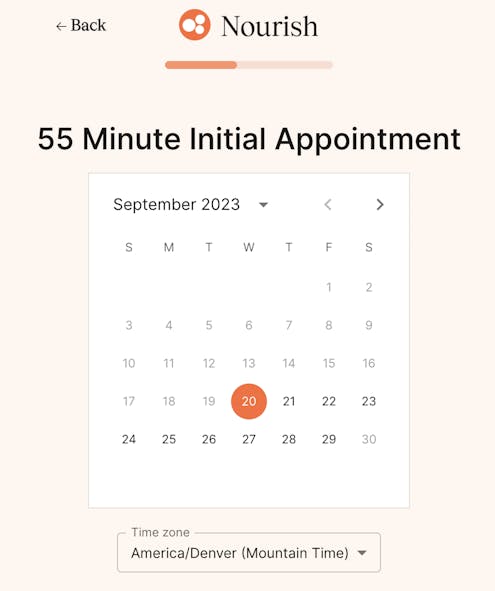 Challenges of scheduling in healthcare
Scheduling in healthcare is challenging due to the complex and highly variable nature of the industry. Some factors that make scheduling a highly complex system include capacity constraints, coordinating multidisciplinary teams, no-shows and last-minute cancellations, patient preferences and urgency, and compliance.
Capacity constraints
Healthcare organizations contend with fluctuating patient volumes, emergencies, and allocating resources like healthcare providers, exam or operation rooms, and equipment. These factors can cause scheduling conflicts and delays in patient care.
Coordinating multidisciplinary teams
Healthcare delivery often involves multiple specialists and support staff working together, requiring intricate scheduling coordination to provide comprehensive care. Coordinating their schedules and ensuring that they are available when needed can be a logistical quagmire.
No-shows and last-minute cancellations
Patient no-shows and last-minute cancellations disrupt schedules, leading to wasted resources and care interruptions. Implementing strategies like reminders can help to minimize these issues.
Patient preferences and urgency
Patients have unique preferences, including the choice of healthcare providers, appointment times, and communication methods. Balancing these priorities with urgent cases can be challenging, especially when resources are limited and costly. A flexible scheduling system and effective communication are essential to maintain patient satisfaction and operational efficiency.
Compliance
Healthcare scheduling must comply with regulations such as HIPAA, labor laws, and staff preferences, adding additional layers of complexity.
The best appointment scheduling tools for healthcare companies
Innovative solutions are increasingly essential to address all competing factors in healthcare systems and provide patients with seamless scheduling experiences. Some of the top HIPAA-compliant scheduling tools for healthcare companies are Acuity Scheduling, Cal.com and Healthie.
Acuity Scheduling is a powerful appointment scheduling software that's great for healthcare companies. A user-friendly patient portal for easy appointment booking and management, customization options, and automated reminders are all features that make Acuity Scheduling a valuable real-time scheduling tool.
Cal.com is a comprehensive scheduling tool capable of securely integrating all your calendars, managing appointments across multiple locations, and automating essential communication.
Healthie is a healthcare delivery optimization platform that includes a sophisticated scheduling tool for your team. Custom design your real-time scheduling system to best serve your patients, whether based on time preferences or individual-group needs.
Key features to look for in scheduling tools
Scheduling platforms offer a range of features and it's important to find that best fits your company. Some are great for mid-to-large companies while others will grow with your business.
Do you need to build on an API so you can integrate with third-party systems? What about the look of the calendars? A customizable calendar will integrate into your design, ensuring the page looks professional and on-brand. Below is a list of some important features to look for when you're in the market for a scheduling platform:
✅ Compliance - Features and functionalities that help you adhere to healthcare regulations and standards, including HIPAA and other healthcare-specific compliance requirements.
✅ EHR/EMR integration - Integration with electronic health records (EHR) or electronic medical records (EMR) systems so you have seamless access to patient data.
✅ Direct scheduling: Online booking capabilities that enable your patients to schedule, reschedule or cancel appointments through a user-friendly portal or app.
✅ Resource management: Tools for managing your providers' schedules, rooms, equipment, and other resources to optimize utilization.
✅ Multi-location support: If you have multiple facilities or offices, you might need support for centralized scheduling and management.
✅ Customization - Forms and calendar templates that can be styled to match your brand, including white labeling.
✅ Notifications - Automated reminders for both patients and providers to reduce no-show rates and improve attendance.
Optimizing the scheduling process with intelligent patient routing
One of the most effective ways to use scheduling tools is in your online intake forms. Start with a patient qualification form that can sort prospective patients for eligibility for your services, specialities, and capacity. This preliminary screening, which aligns with parts of the validation process, helps identify eligible candidates and prevents unnecessary consultations for those who don't qualify, and directs patients to the appropriate care providers or services. A smart qualification form saves both your team and prospective patients valuable time.
Adding scheduling capabilities to your healthcare offering
Once the qualification process is complete, the next step is adding the scheduling tool. If you're building your intake form on a HIPAA-compliant platform like Formsort, you can easily integrate healthcare-friendly scheduling tools right into your form. Add a custom question to feature your schedule, determine the settings and customize.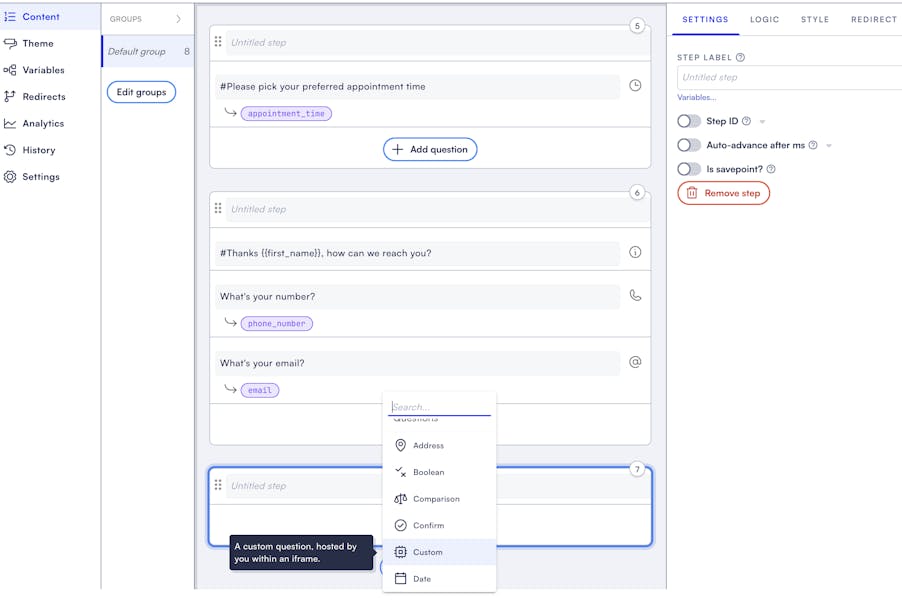 Build scheduling forms with Formsort
As the healthcare industry continues to evolve, integrating scheduling capabilities into your healthcare offering can help you stay competitive and meet the evolving expectations of patients today. When you build your healthcare forms with Formsort, you can integrate directly with HIPAA-compliant scheduling tools as part of your secure tech stack.