How Form Health saved thousands of engineering hours with Formsort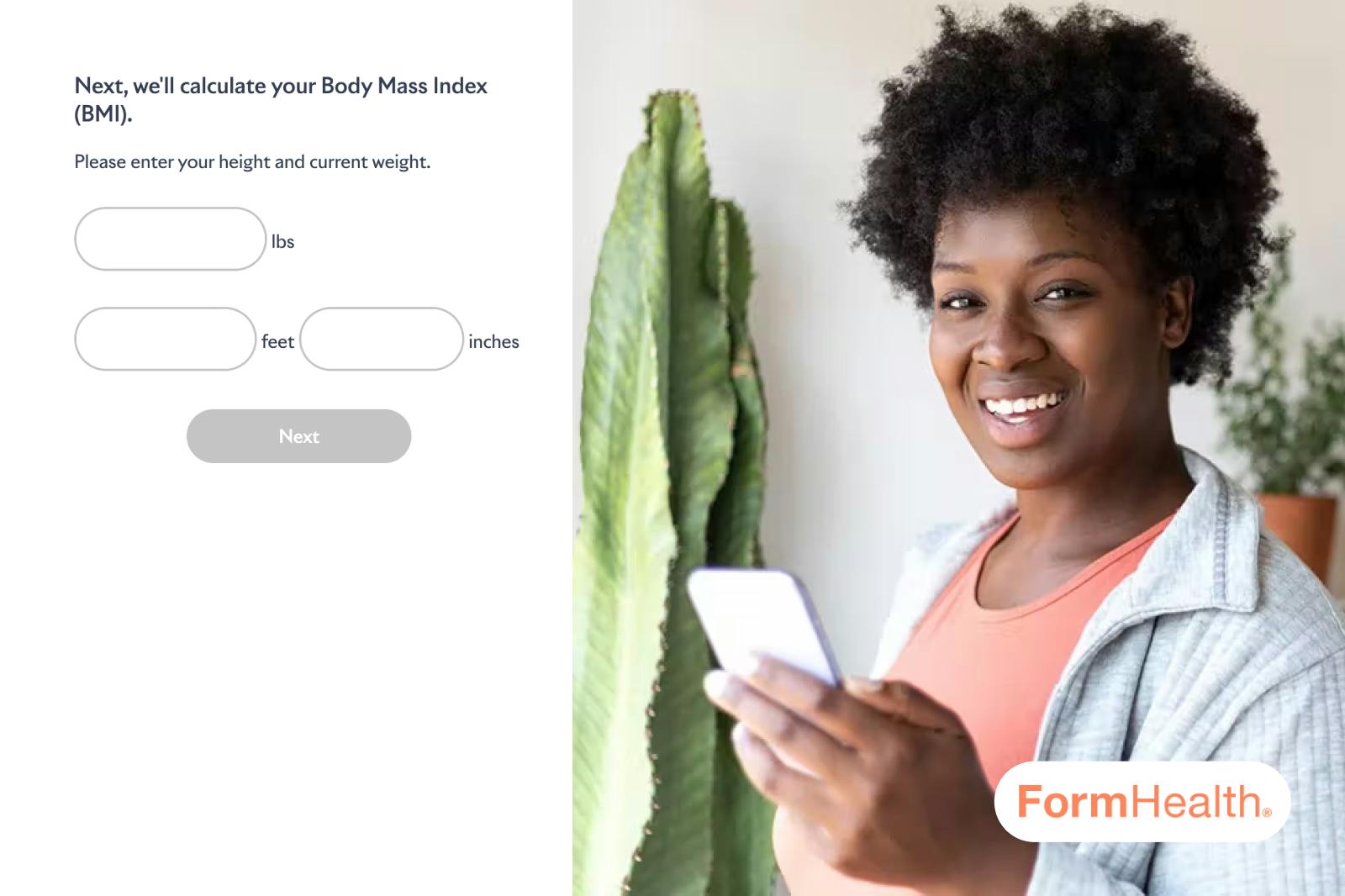 Learn how Form Health generated hundreds of thousands of dollars of engineering cost savings by building its most important patient flows on Formsort
Industry
Personalized medical weight loss 
Founded
2019
Company size
11-50
Company overview
Form Health helps individuals reach their health goals through a medical weight loss plan. It pairs individuals with a board-certified doctor and Registered Dietitian to create a personalized plan combining FDA-approved medications, sustainable nutrition, physical activity, and behavior change support.
In order to build these personalized plans, Form Health needs to collect sensitive information from prospects in a trustworthy and HIPAA-compliant way. To do this, in 2021 Form Health's VP of Engineering started using Formsort to power its "Am I a candidate?" eligibility quiz. 
Over a year later, Form Health runs 10+ critical onboarding and post-onboarding forms on Formsort: onboarding, check-in surveys, contact forms, provider referrals, and more.
By building on Formsort, Form Health has saved thousands of engineering hours, translating into hundreds of thousands of dollars saved. Moreover, their engineering team has empowered their product and marketing teams to build, ship and test their own experiments.
Client challenges: Form changes on their existing stack had long lead times, and more basic form builders lacked the customization and integrations the team needed
When Jeremy Weiskotten joined Form Health as VP of Engineering, the team was using Wordpress for their website and sign-up flow. Every time the team wanted to make a small change to the sign-up flow, they needed to submit a ticket and get it prioritized. This led to long lead times: one month to get prioritization, and another month to make the change.
Jeremy decided to explore other options. Like many engineers, he didn't want to own this form and didn't want to be a bottleneck for PMs and marketers' growth experiments. Jeremy evaluated more basic form builders but struggled to find a tool that was fully customizable, HIPAA-compliant, and had the integrations he needed.
Formsort solutions: Highly customizable forms, flexible deployment, and support for multiple form use cases
Styling and advanced logic
The eligibility form is the first point of contact between Form Health and its prospects, so it needs to be aligned to the company's design system. Formsort's team was very hands-on in the early stages and built Form Health a proof-of-concept (POC) according to their styling and logic needs. The POC included a fully customizable layout - with backgrounds and button styles tailored to Form Health's brand - and complex calculations such as state eligibility and BMI. 
Once Jeremy saw the key capabilities, he knew Formsort would help Form Health's team achieve greater control over UX without depending on in-house engineering.
Form deployment on web and native mobile app
Form Health has a web and mobile app, so it was important to find a form software that worked across different devices. Formsort's flexible deployment options allowed Form Health to embed their eligibility form inside their webpage. Formsort's redirect feature allowed Form Health to seamlessly integrate their forms into their native mobile app.
Testing 
Form Health needed a way to quickly test and iterate on multiple versions of a form to evaluate conversion optimization. All of this was done on Formsort. Once the team designed their first flow variant, they were able to save it as a theme and make iterative changes for future versions. After they developed several variants, they were able to split traffic across them and compare conversion. 
If they needed additional analytics, they set up a native integration with their marketing analytics tool of choice (Optimizely, Amplitude, Google Tag Manager, etc.)
Customer support 
Form Health has built and shipped over 30 form variants on Formsort, and Formsort's team has supported them at every step. According to Jeremy there's been "great support from the C-suite all the way down to customer success and support engineering".
Results
Faster experimentation timelines
Formsort initially solved a pain point for engineering. Now it helps Form Health's PMs quickly design and launch growth experiments. In one instance, Formsort helped the Form Health team build a form in a few days, while the internal build would have taken one month. 
Faster testing timelines are due to Formsort's theme feature, in-house analytics and integrations. "The analytics we get [are] pretty much out of the box through the native integrations. We integrate with tools like Amplitude and our own data warehouse, so we can spot issues in our funnel sooner."
Thousands of engineering hours saved
By removing engineers from the critical path, Jeremy's team saved countless hours of form building time, translating into hundreds of thousands of dollars saved. Instead of attending to form change tickets, the engineering team has been able to redirect their energy to net new feature development, allowing his team to focus on their unique problems.
Scalably building 10+ forms across the user journey
As Form Health was rapidly expanding, they were running into some issues with their CRM workflow and needed a way to seamlessly collect customers' PHI data after the onboarding phase. They were previously using several tools to handle these follow-up data collection steps, leading to a disjointed process. 
Formsort's "theme" feature allowed Form Health to quickly spin up new forms for these use cases in their design system. Form Health has expanded from its initial form use case - eligibility and onboarding - to 10+ flows across the user journey. Form Health now uses Formsort to run its check-in surveys and consolidate a significant amount of its PHI data collection: contact form, cancelation form, and most recently provider referrals. With Formsort, they can seamlessly collect this information in one tool.