Balance Homes optimizes their fintech signup flow with Formsort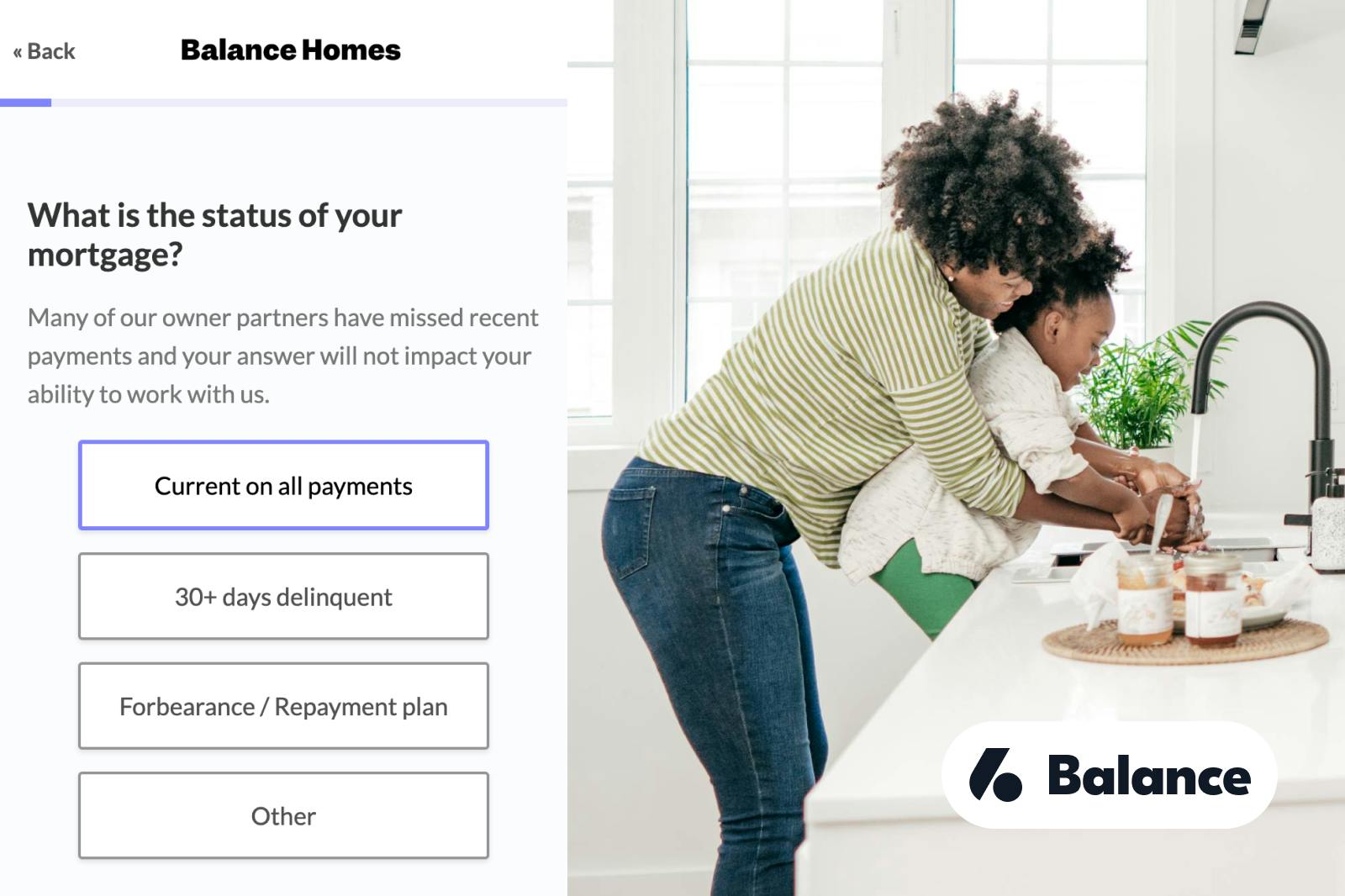 Learn how Balance Homes saved thousands of engineering hours by switching to Formsort
Industry
Real estate technology
Founded
2021
Company size
11-50
Overview
Balance Homes is a real estate technology company leveraging a co-investment model. Balance Homes lowers homeowners' monthly payments and helps them stay in their homes by co-investing in the property and paying down existing debt. They also provide flexible buy-out options that empower homeowners to get out of debt faster.
Balance's co-founder, Aaron LaRue, has several years of fintech experience, and firmly believes fintech onboarding flows shouldn't be built in-house. After launching their MVP using Typeform, Balance Homes switched over to Formsort to build a more sophisticated onboarding flow with complex logic, 3rd party integrations and greater design customization.
Now, Balance Homes has built half a dozen flows using Formsort, from customer onboarding to sales qualification. By switching to Formsort, the team has saved the equivalent work of one full-time engineer, significant given the company's small size (<25 full-time employees).
Client challenges: Other form builders can't address fintechs' complex onboarding challenges
Like many fintechs, Balance Homes' onboarding flow is the product. Many downstream product experiences are tied to the information collected during sign-up. For example, identity verification authenticates incoming leads, while questions around property type and remaining mortgage balance help inform a prospect's proposal. All of these complexities require advanced features like conditional routing, data schema management, and seamless third party integrations, which are often lacking in more basic form builders.
Aaron was excited to try out Formsort due to its unique founding story. As early employees of Better, the Formsort founders were intimately familiar with the form challenges in the real estate industry, and used this experience to inform Formsort's feature set. Once the team helped him upgrade his pre-existing Typeform into a more custom flow, he knew Formsort was the right solution for his business.
Formsort solutions: Highly customizable form builder that plugs into fintechs' tech stack 
Design customization
Since the onboarding flow is a critical part of Balance's product experience, the team wanted to ensure its style aligned with the rest of their design system. The Balance Homes team achieved the design flexibility and control it needed using Formsort. A few highlights include:
Background colors, progress bars and button styles aligned to their brand design. The team shared a prototype of their flow in Figma, and was able to replicate the design inside of Formsort's studio. Color variables allowed the team to standardize the look and feel of design components throughout the flow.
Sharing legal disclosures and getting consent from customers. Balance Homes operates in a highly regulated space, and needs to make sure prospective customers understand how the product works, their privacy policy and their terms and conditions. The team was able to easily share these policies using Formsort's confirmation and informational question types.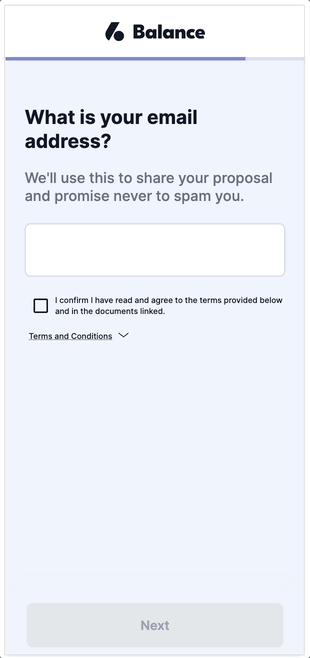 3rd party integrations
Formsort integrates seamlessly with Balance Homes' tech stack:
Leads often come across Balance Homes on their Webflow-powered marketing website, or a third party marketplace like NerdWallet. 
When a lead clicks on the "Get started" CTA on the marketing website or NerdWallet, they're directed to the Formsort flow, which passes through any relevant UTM parameters. 
From here, several 3rd party services (e.g., Alloy, LexisNexis, Retool) are called to verify identity, evaluate risk, and conduct other validations.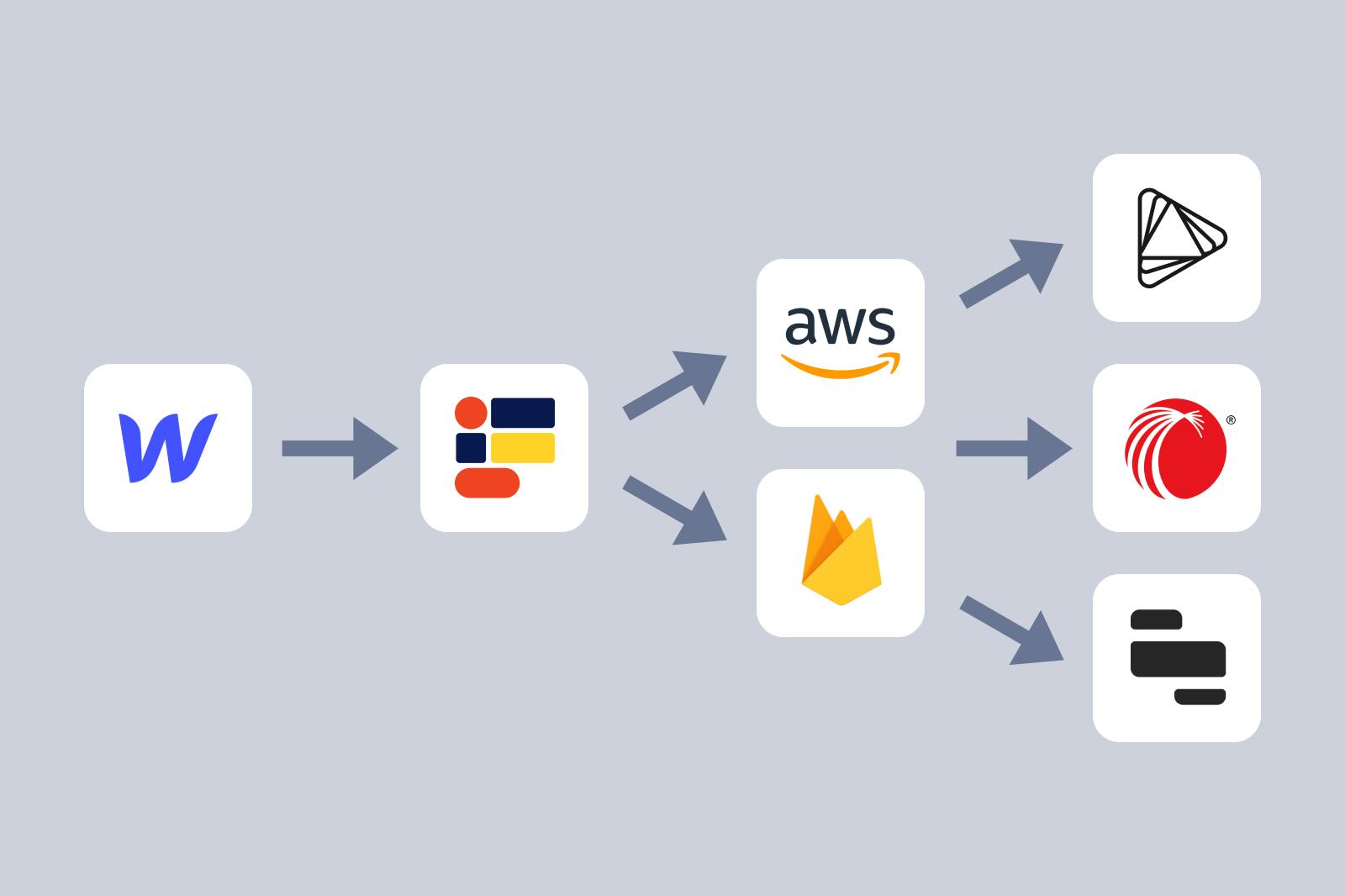 Complex conditional logic
Conditional routing allows the Balance Homes team to determine if a lead qualifies for the service, and what type of service makes the most sense for them. Formsort's conditional logic allowed the team to quickly qualify leads based on property type, geography, and other attributes.
Results
Thousands of engineering hours saved
Balance Homes' Product Manager and sales team now manage all of the company's flows. By streamlining engineers' involvement in the form building process, Balance Homes has saved the work of one full-time engineer, equating to thousands of engineering hours and significant cost savings.
"We haven't had an engineer build a form in the 15 months that we've been a company," said Aaron. "By switching to Formsort, we're able to put our engineers on higher value problems."
Accelerating lead qualification for sales 
Balance's sales team now uses a Formsort flow to accelerate thousands of lead qualifications. Once a lead is submitted via the onboarding flow, a member of Balance's sales team schedules a follow-up call to generate a proposal for the homeowner. The sales team member uses a Formsort flow to capture all of the information during this call, and sends that data to Retool. Anytime the sales team wants to tweak their discovery call script or add/remove questions, they can easily make these form changes inside of Formsort. 
Start building on Formsort today
Want to see how Formsort can help your business? Start building for free today.