How Vial increased clinical trial sign-ups by 30%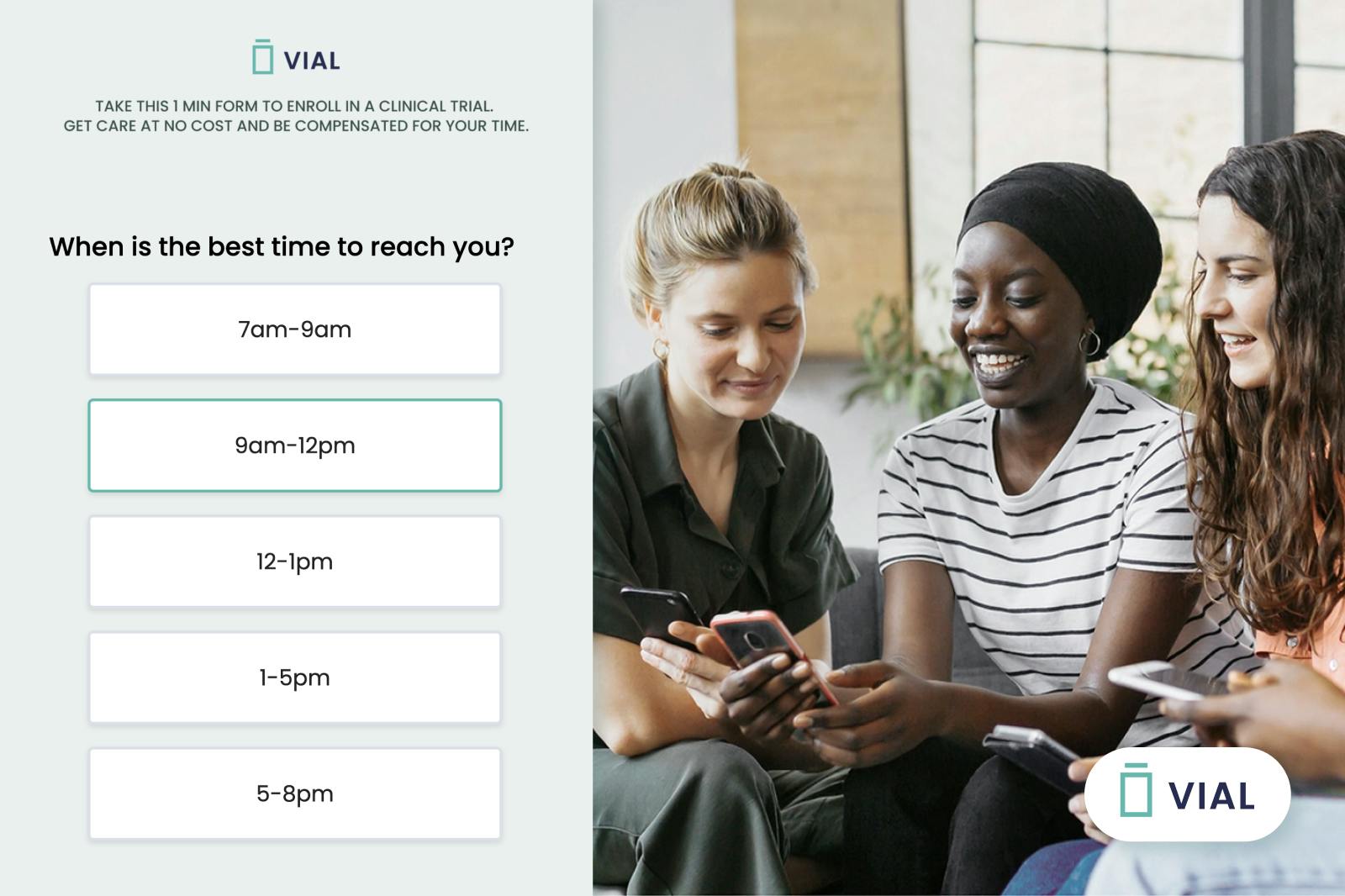 Learn how Vial increased form completion rates and accelerated experimentation timelines with Formsort
Industry
Clinical trials / clinical research organization (CRO)
Founded
2021
Company size
100+
Overview
Vial is an SF-based healthcare startup reimagining the clinical trials industry by creating best-in-class study management and CRO services. Their CTMS, VialConnect, enables clinics to streamline workflows and execute trials more efficiently. In addition, their recently launched Oncology CRO was built to deliver a superior CRO experience for oncology sponsors.
As Vial ramped up its marketing efforts in 2021, the team needed to develop a secure sign-up flow that would pipe participant information back into its Clinical Trial Management System, or CTMS. Vial chose Formsort to power the sign-up flows across all of its landing pages. 
Since using Formsort, Vial has increased form completion rates by 30%, reduced engineering costs, and shortened its form building timeline from weeks to 1-2 days. Vial's product and marketing teams now design, iterate and ship their sign-up flows inside Formsort - without involving their developers.
Client challenges: Team needed to build a patient recruitment flow, but off-the-shelf solutions lacked design flexibility and critical integrations
Patient recruitment is a critical part of the clinical trial process, but is challenging due to low patient population awareness and lengthy qualification processes. In late 2021 the Vial team began investing in D2C marketing campaigns to address the awareness barrier, but they still needed an efficient way to qualify these leads for upcoming trials.
The Vial team knew they wanted to leverage form software to solve this problem, and looked for a tool that could mirror their engineering team's capabilities. Many off-the-shelf solutions lacked the styling and testing capabilities they needed, and did not integrate with their tech stack: BigQuery, Google Analytics, Google Tag Manager, and their internal CTMS.
Vial came across Formsort's offering and realized it satisfied all of their requirements. Implementation took less than one week, allowing the team to get live quickly.
Formsort solutions: Rapid experimentation, engineering-friendly integrations, and powerful marketing analytics
Rapid experimentation
According to Khunal Parkash, a Business Operations Manager at Vial, Formsort helped Vial "reimagine what they ask prospective clinical trial participants". Initially the Vial team started off with a long flow (30-40 questions) with complex decision trees that captured a responder's detailed medical history. As the team reviewed the funnel, they realized these lengthy flows were negatively impacting completion rates.
The Vial team was able to rapidly iterate on its sign-up flow by leveraging Formsort's custom "theme" feature. Once they customized all of their form components and saved a theme, the team could rapidly modify content while maintaining a custom-engineered level of quality. Editing and deploying these new flow variants took just a few hours and required no engineering involvement, whereas a home-grown process would have taken anywhere from a couple of days to weeks.
Native integrations
Sign-up flow data needed to be analyzed by different teams across Vial, and these teams use different tools. The engineering team needed to receive data in BigQuery, the marketing team needed to review campaign analytics in Google Analytics, and the product team needed to receive data in the CTMS to enable follow-up calls with leads. Formsort's native integrations with BigQuery, Google Tag Manager and Google Analytics enabled the first two use cases, while Webhooks allowed the team to send data to their internal CTMS.
"Formsort has made it incredibly easy for our product teams to spin up forms without wasting engineering time. Data is simple, readable, and flows exactly where it needs to go with minimal complexity," said Tina Jiang, a Senior Product Manager at Vial.
Marketing analytics
Formsort's analytics features helped Vial's marketing team analyze funnel performance and identify areas for improvement. Additionally, enabling UTM parameters allowed the marketing team to keep track of campaign referrals and performance. "Formsort makes it easier for marketers like myself to get clear line of sight into our funnel", said Steve Baek, Head of Marketing at Vial. 
Results
30% increase in form completion rate
By shortening its form from 30-40 questions to a simpler flow, Vial increased its sign-up completion rate by 30%.
New flows shipped in 1-2 days
Vial has experimented with over 10 variants of their intake flow, each of which take just a few hours of design time and are shipped in 1-2 days. By enabling this faster experimentation process, Formsort has helped the team reimagine their customer journey, replacing their initially complicated flow with a short, frictionless user experience.
 Reduced engineering costs 
Vial's product and marketing teams can now launch new, highly customizable forms in days, without dipping into engineering resources. "Formsort, with its engineering-friendly focus, enables custom solutions that protect customer data while reducing engineering costs and complexity", said Khunal Parkash, a Business Operations Manager at Vial.