Don't build your user journey on survey builders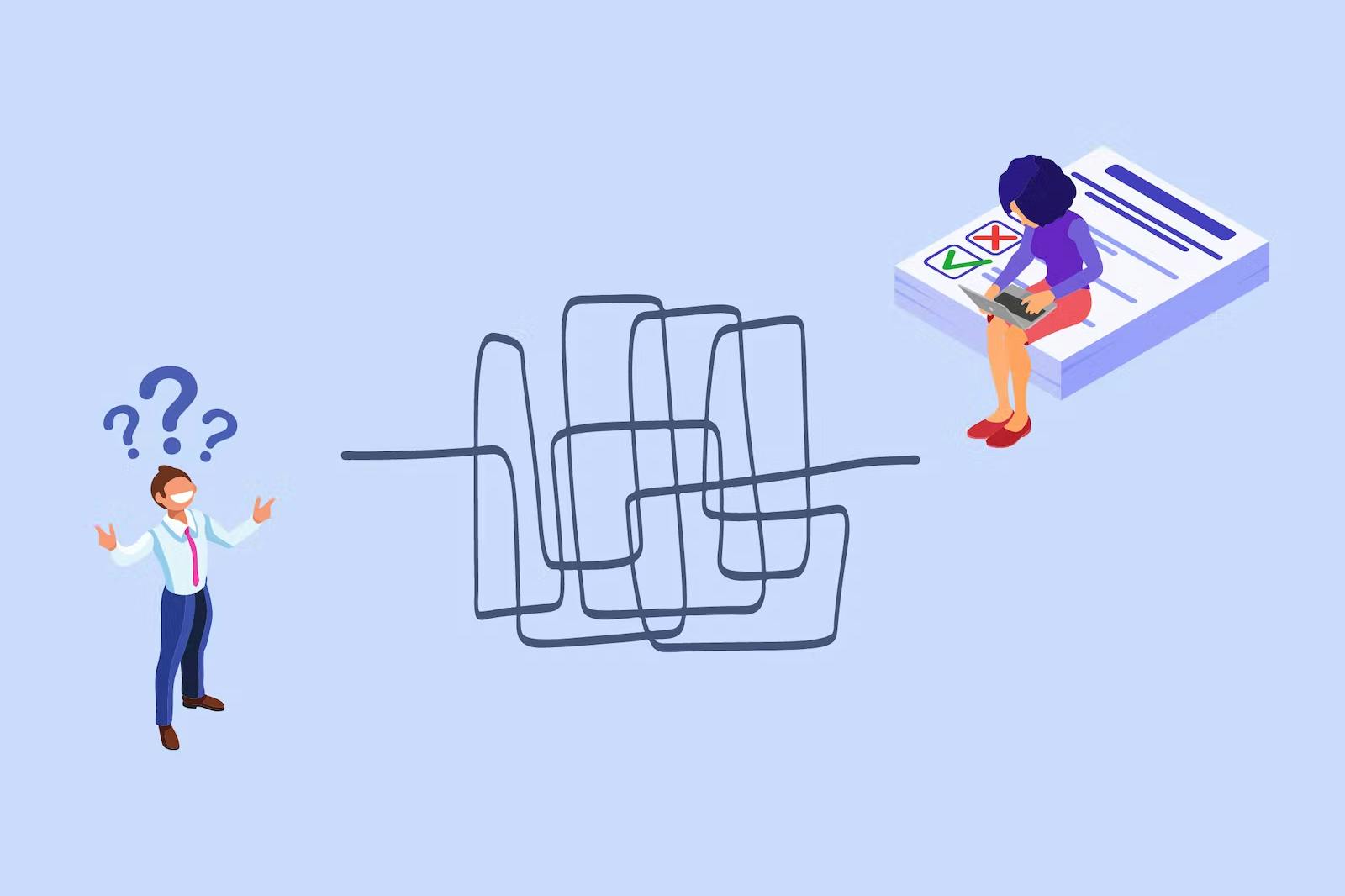 Is your survey builder empowering or complicating your user journey? Forms need to keep conversations going as your business is growing.
The user journey has become more high-touch yet automated than ever. Using forms for client engagement is not new or novel, but the average users' expectations for their interactions have changed. The first conversations users start with your business are often through forms. When designing a user journey, your goal is to keep conversations going through efficiency and personalization.
Generally, third-party form builders support surveys or simple use cases like a contact form. However, in an early-stage business, these form solutions are attractive for ease of implementation and an affordable alternative to engineering your forms.
Unfortunately, simple form builders don't offer features required for a high-value customer-facing onboarding, marketing, or support, flow for businesses serious about scaling. Keeping design and data in sync with rapid iterations can quickly become unmanageable if you aren't laying the groundwork for scale in your user journey from the beginning.
Design
Branding matters and psychology agrees. With competition for users' attention increasing across devices and channels, their consideration stage may be more extended when making purchasing decisions. Having consistent design makes your brand more memorable and fosters trust. The aesthetic and heuristics of your website or application UX are an essential part of streamlining user behavior.
Many form builders help you get up and running by offering pre-built templates with an easy-to-use drag and drop functionality. While this is great for a newer or smaller business, as your design system matures, it's less likely your form builder will keep up. Depending on how big the delta is, your form design can get out of sync with the rest of your web app.
Scaling form elements for different browsers and devices is essential for clients with multiple products/services or high-volume traffic applications and design variants for those devices. Formsort allows you to easily design templated, integrated forms that are a seamless part of your web properties.
Suppose you're going through a more extensive design overhaul or are implementing your forms for the first time. In that case, there will need to be a close collaboration with design and engineering that isn't always feasible when other development initiatives take priority. Formsort unblocks designers by recreating their design system in our studio, including custom fonts and CSS attributes, empowering them to iterate and deploy design changes safely without using engineering resources.
Data Silos
Transparency and easy access to data is increasingly more critical in day-to-day decision-making. Of course, your form responses will be available in a form builder, or maybe even your database, but if they can't be surfaced by the right people quickly, they aren't beneficial.
Often comparing the results against other key data points like how users interact with other parts of your process is necessary to get the complete picture of user behavior. Most form builders integrate with Google Analytics, but many organizations often need to analyze proprietary data and custom events in data lakes or analytics platforms.
Formsort prioritizes data stores as a central part of our users' setups. In addition to on-platform analytics to analyze the performance of variants and responses, Formsort seamlessly sends data to your warehouses to be leveraged in your business intelligence workflow without replication.
Extensibility
Integrations, APIs, plug-ins. It all sounds so easy until you start to read the documentation. Web apps are made up of several languages and software to deliver the user experience. So what works for your app may not always translate to the integrations that your form builder can support.
Generally, there is a bias toward prioritizing essential marketing integrations. Depending on your use case, you may not see the need to integrate your data organization fully into your form builder. Still, between data transformations and evolving business demands, your form builder may grow into an essential source of truth that requires easy access to and sharing of the data collected across your organization.
Managing a form codebase to support more complex initiatives is an option, but Formsort integrates with your stack, and your stack integrates with Formsort. As a result, you can connect your database, analytics infrastructure and add in best-in-class point solutions without maintaining a custom form codebase.
Funnel Optimization and Testing Funnel Analytics
When building or supporting a complex user journey, you need to have visibility into what is happening every step of the way. For example, your form analytics need to get granular to understand how users are responding to a form variant or troubleshooting the operability of a form flow integration.
Optimizing conversion rates is an ongoing journey that requires you to respond to evolving user feedback. If you are a growth-centric company focusing on KPIs, selecting a form builder that enables experimentation and A/B Testing is vital as your marketing goals increase in complexity.
Opacity may not be a problem when you ask five simple questions. However, when your operations depend on it, there are a lot of dollars behind even small initiatives like copy changes. If you want to make decisions about minor variations to design or copy, you need a robust form builder with on-platform analytics that measures the impact of your changes.
Are your forms scaling with your demand?
Whether today or in the future, one or more of these pieces of functionality could put your user journey at odds with your form builder. When choosing the right technology partner for non-native forms, take some time to think about how you expect or hope your userbase to grow or evolve in the coming months.
With Formsort, you can build branded flows that fit seamlessly into your application by applying your design system across all of your forms. In addition to prioritizing the look and feel of your forms, Formsort is a trustworthy data partner and advocate that does not save your data, making it secure by design. Finally, by integrating into the rest of your stack, Formsort is built to work alongside your tool suite to help you engage your users every step of the way.
Are you ready to start building forms with the simplicity of a drag and drop editor, the capabilities of a customer data platform, and the reliability of a first-party application? If so, Formsort is here to grow with you.