Allara more than doubles conversion rates using Formsort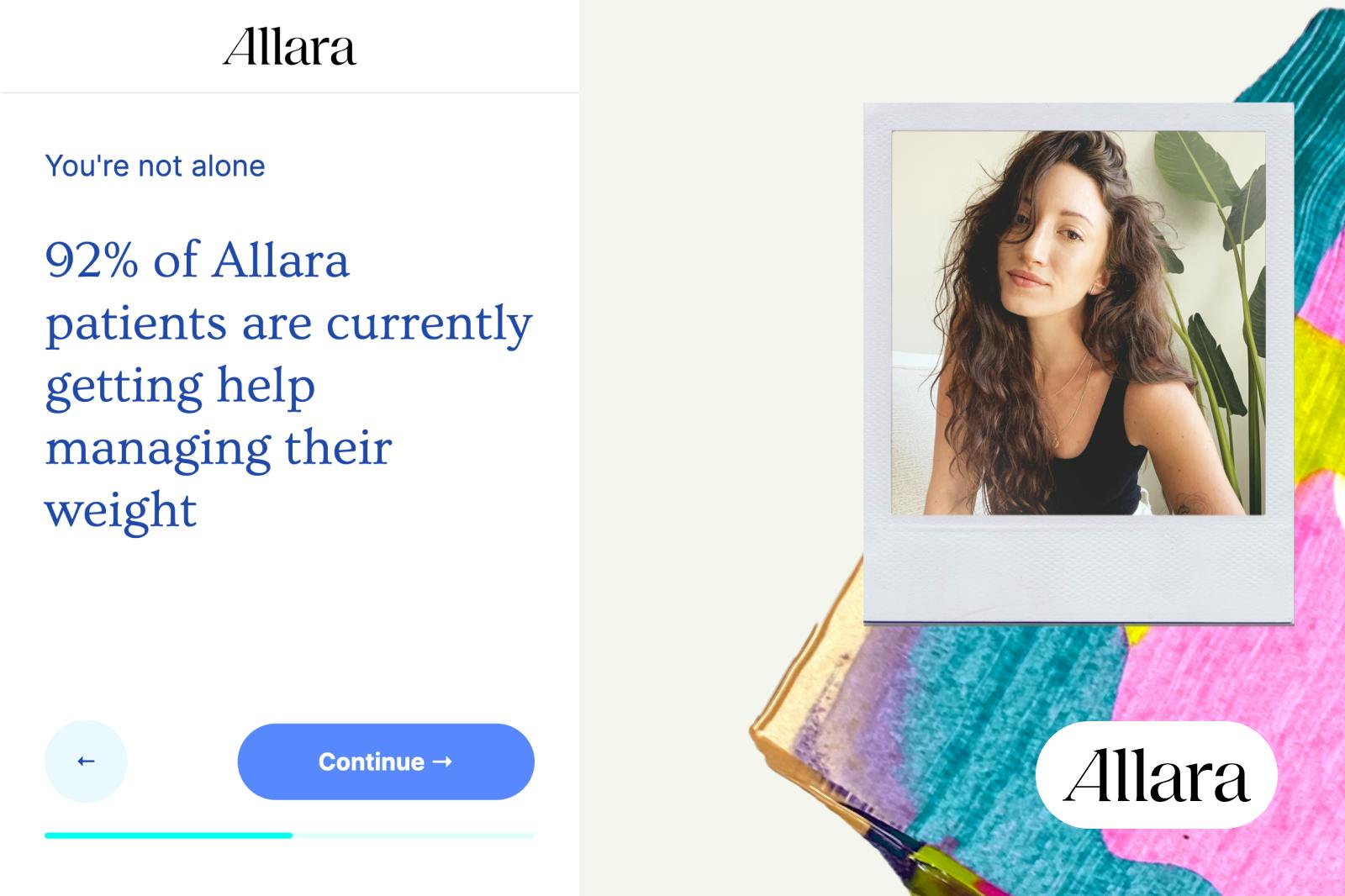 Learn how Allara increased conversion rates by over 100%, and reduced form building timelines by 80%
Industry
Virtual care for polycystic ovary syndrome (PCOS) 
Founded
2020
Company size
1-50
Overview
Allara is a one-stop virtual care center and community for women with polycystic ovary syndrome (PCOS). The company pairs clients with a medical provider and registered dietitian, who work together on a holistic care program that includes diagnostic testing, video appointments, and nutritional and lifestyle counseling. Forms are used throughout this care coordination and provision. 
After launching its MVP, the Allara team wanted to upgrade their form to focus on conversion and scalability. They needed a form building solution that would give them the flexibility and customization of custom-engineered forms, without relying on internal engineering resources. The team found Formsort through a customer referral and built a revamped version of their onboarding flow in a few days. After that, they launched several more forms to collect data throughout the patient journey, like monthly check-ins and templatized mental health assessments. 
Allara has seen its onboarding conversion rate more than double since switching to Formsort. In addition, the team has seen an 80% reduction in form building time. Allara now provides better, more responsive care by leveraging diagnostic and check-in flows throughout the patient journey.
Client challenges: In-house flows were inefficient but other form builders lacked customization
Allara's first onboarding flow was a simple, custom-built intake form to accompany their MVP and was intended to hold them over for the first 6 months. However, even with simple forms, teams can struggle with role division and clarity, dependencies, parent-child relationships, and integrations. Molly McGrath, Head of Product at Allara, knew it would be more efficient to leverage a form building tool to create the robust forms they needed. 
Molly was looking for a completely customizable solution. She wanted the form design to align with the company's brand and didn't want it to look like her team was using a third party tool. In addition, she wanted enough structure around data entry so that a PM couldn't break the code. Lastly, she wanted a tool that could connect with the rest of their tech stack: PostgreSQL for HIPAA-compliant data storage and auth0 for account creation.
Formsort solutions: Flexible, HIPAA compliant form builder for digital health companies 
Custom styling and logic
The onboarding flow is the first interaction between Allara and prospective patients, so its design needs to align with the rest of Allara's website. Allara achieved both its logic and customization needs using Formsort. A few highlights include:
Lead qualification via state eligibility: Allara is licensed to operate in several states, and can quickly qualify leads based on their state of residence.
Informational screens: Informational screens provide in-the-moment context and help generate trust with the responder. Allara's informational screens are personalized to the responder's reported concerns (see below for an example).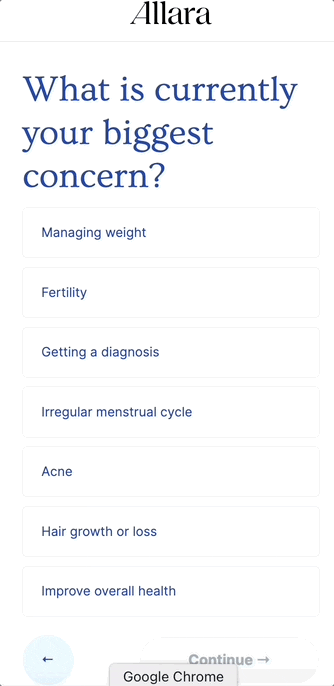 Built-in form validation
According to Molly, many form building tools can either feel too simplistic or incur "death by a thousand cuts." In other words, they offer a great deal of flexibility but open up many potential points of form error, e.g. if someone makes a mistake setting up the JSON schema, the form won't work. Formsort's built-in validation protects flows from breaking in the development phase. Formsort lets you validate common fields like phone number, dates, and email addresses(including auto-correction of common email domain typos).
With Formsort's built-in validations, product managers and content editors can develop their flow variants knowing they have a strong safety net as they play around with questions, conditional logic, and input types. For example, if Molly added a question dependent on another question, but accidentally switched around the order, Formsort would flag the issue, saving her time and frustration. 
"I (once) spent an entire Saturday handwriting out the mappings of a form and then spent hours going through JSONLint to figure out where my error was. That's such a painful process and a poor use of a PM's time. [. . .] Formsort just completely eliminates that pain for me," said Molly. 
Templates for mental health screening  
Anxiety and depression are comorbid with PCOS and are also treated in a holistic PCOS care plan. Mental health screening forms can be time-consuming to build from scratch, so Allara asked the Formsort team to build some diagnostic tool templates for these disorders based on pre-existing, clinically validated assessments: the PHQ-9, PHQ-4, and GAD-7. The Formsort team shared a usable template of the patient health questionnaire (PHQ) in 1 day.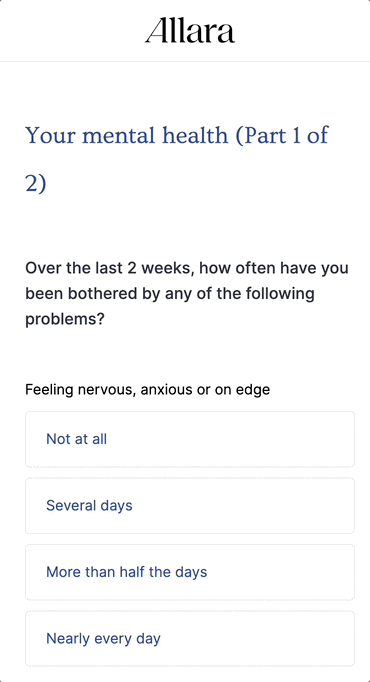 Now, Allara can easily incorporate mental health screeners in patient touch points like monthly check-ins - all they have to do is choose the template and apply their custom design theme. These short assessments use calculated variables to assign values to patient responses and calculate an aggregate score. This score can then be used as guidance to understand patients' mental health status and customize treatment. Mental health assessment templates are now available to all Formsort customers. 
Support
Formsort set up a dedicated Slack channel and scheduled regular check-ins to make sure Allara was getting the support they needed. This level of support was a crucial differentiator for Molly: "Most vendor tools have a long waiting period, even for simple tickets, which can block our team. That's not the case with Formsort". 
Results
100%+ increase in conversion rate
Allara saw the conversion rate on its sign-up flow more than double using Formsort vs. their previous, custom-built form. This was primarily driven by improved form design and faster experimentation timelines. 
80% reduction in form building time
Allara has reduced their onboarding flow-build time by over 80%: from 2+ weeks with an engineer working full-time, to 2 days where engineering work is limited to integration setup. Oftentimes the team can deploy new variants the same day they're created. 
By using Formsort, the Allara team has freed up time to focus on critical strategic questions. Instead of focusing on the nuts and bolts of flows, like form logic and schema standardization, the Allara team can think about more business strategy: for example, what kinds of questions should they be asking their patients to effectively diagnose and improve their PCOS symptoms?
Leveraging Formsort throughout the patient journey
While Allara's initial flow use case was just onboarding, they now use Formsort to collect data throughout the patient experience. Whenever the Allara team wants to ask a patient a question, they use the "theme" functionality to quickly spin up a Formsort flow in their brand's design. 
The team has launched over half a dozen different flows in this way, from onboarding to monthly check-ins. Collecting this data in one tool allows Allara to build comprehensive patient profiles over time.