Introducing Formsort's open access
Fil Zembowicz
CEO & Head of Product
September 22, 2022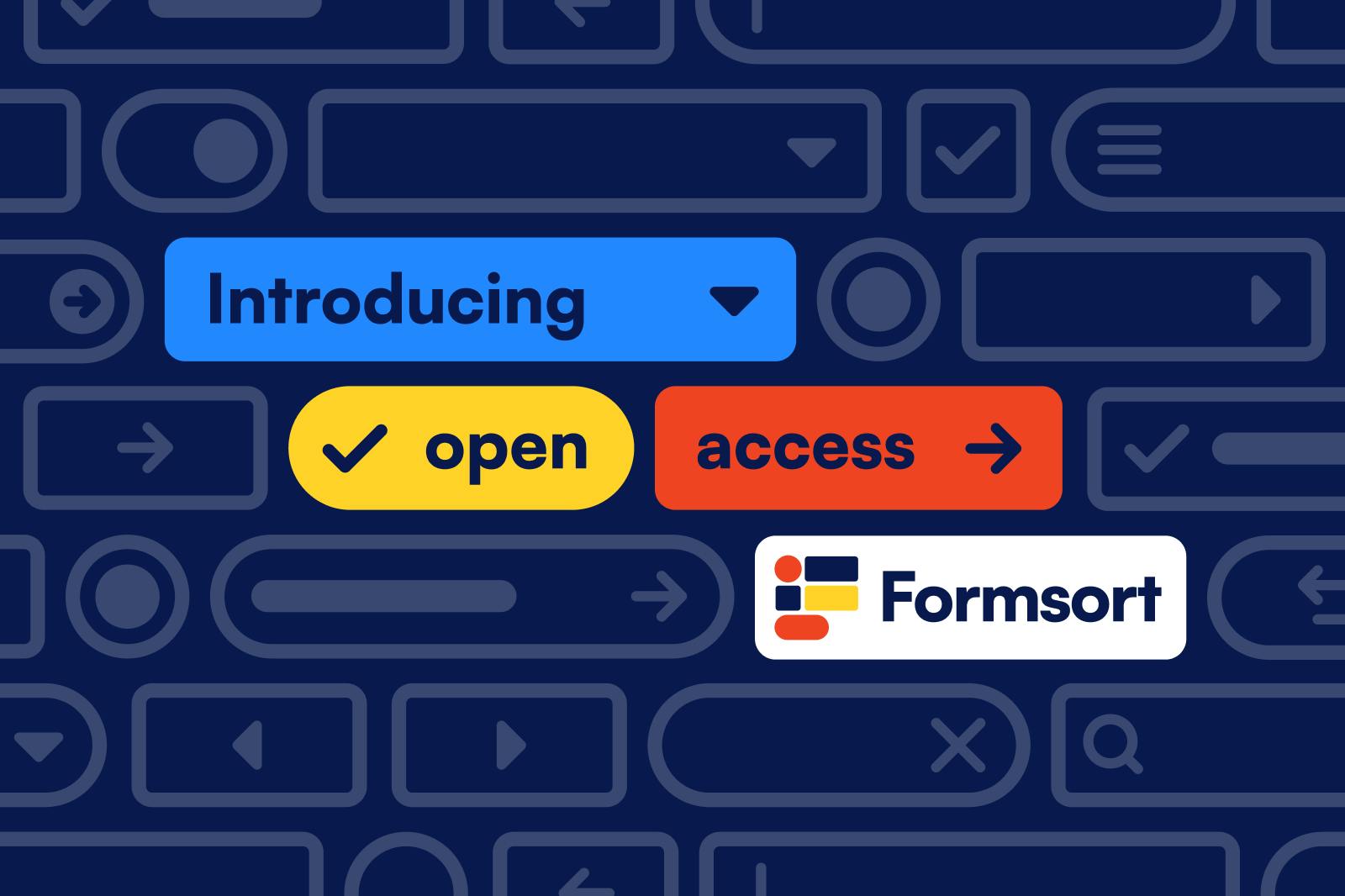 Now, any team can use Formsort to build and optimize their flows
Today, I'm excited to introduce Formsort to the public! 
We've been heads down for a while helping product and marketing teams double their conversion rates and reduce engineering costs with our software. Our low-code form builder helps teams build and optimize their most important flows: sign-up, check-ins, quizzes and more. 
We believe that form infrastructure should be owned by product managers and marketers – not just engineers. With self-serve, we're bringing highly customizable form building to everyone.
Sign up for a free account and start building. Read on to learn more about Formsort's story and how our product works.
Why we started Formsort
Our founding team helped start Better, where we moved the mortgage application process online. The first step in getting a mortgage — pre-approval — was our first touchpoint with customers, so we invested significant time and resources to get it right.
Pre-approval was essentially a complicated flow: we collected sensitive data from our leads through a well-designed UX; pulled their financial data via APIs; qualified them with complex business logic; and securely stored all of the results in our systems.
As Better's Head of Product, my team created the vision for this experience, but our engineering team had to build it from scratch. Each change, from mundane copy updates to complicated 3rd party integrations, was a project that could take weeks to get prioritized and implemented. This significantly slowed down our ability to test and optimize the experience.
We observed this pattern of inefficiency in every industry moving complex transactions online: healthcare, financial services, SaaS and e-commerce. Over 90% of any sign-up flow is generic, yet every company rebuilt the same components from scratch: styles, state management, data processing, and more. When we looked at available tools, popular form builders like Typeform and Jotform were too limited in functionality, and weren't helping tech companies with their complex product form infrastructure. 
That's why we built Formsort – to empower product and marketing teams to build complex flows, without engineers.
How does Formsort work?
Formsort is a highly extensible and customizable hosted form builder platform. You can edit design, content, and logic within our studio - you don't need to run anything or host anything. Your flows can be embedded or accessed directly. We don't own your form data - we just make sure it's passed through safely to your systems of record and analytics stack.
Build flows that look native to your product
Your brand is unique. Our theme editor lets you build flows that are consistent with your brand's design. You can customize every single component of your flow, from background colors down to individual states of buttons. Get the design flexibility of a custom coded flow - without writing a single line of code.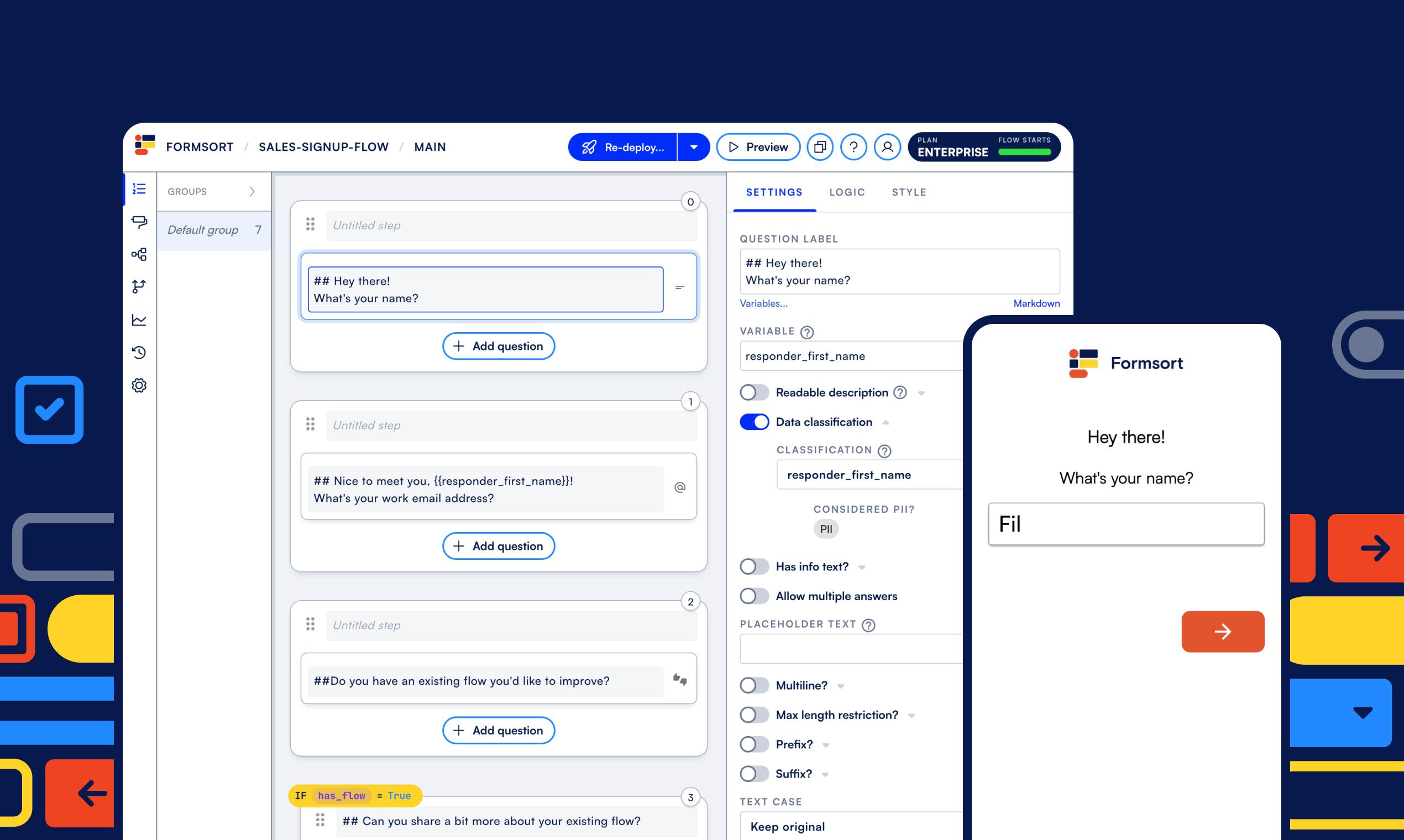 Personalize responder experiences using complex logic
No two people are the same, so don't treat your responders as such. Our conditional logic editor lets you send responders down personalized paths depending on their responses to each of your questions.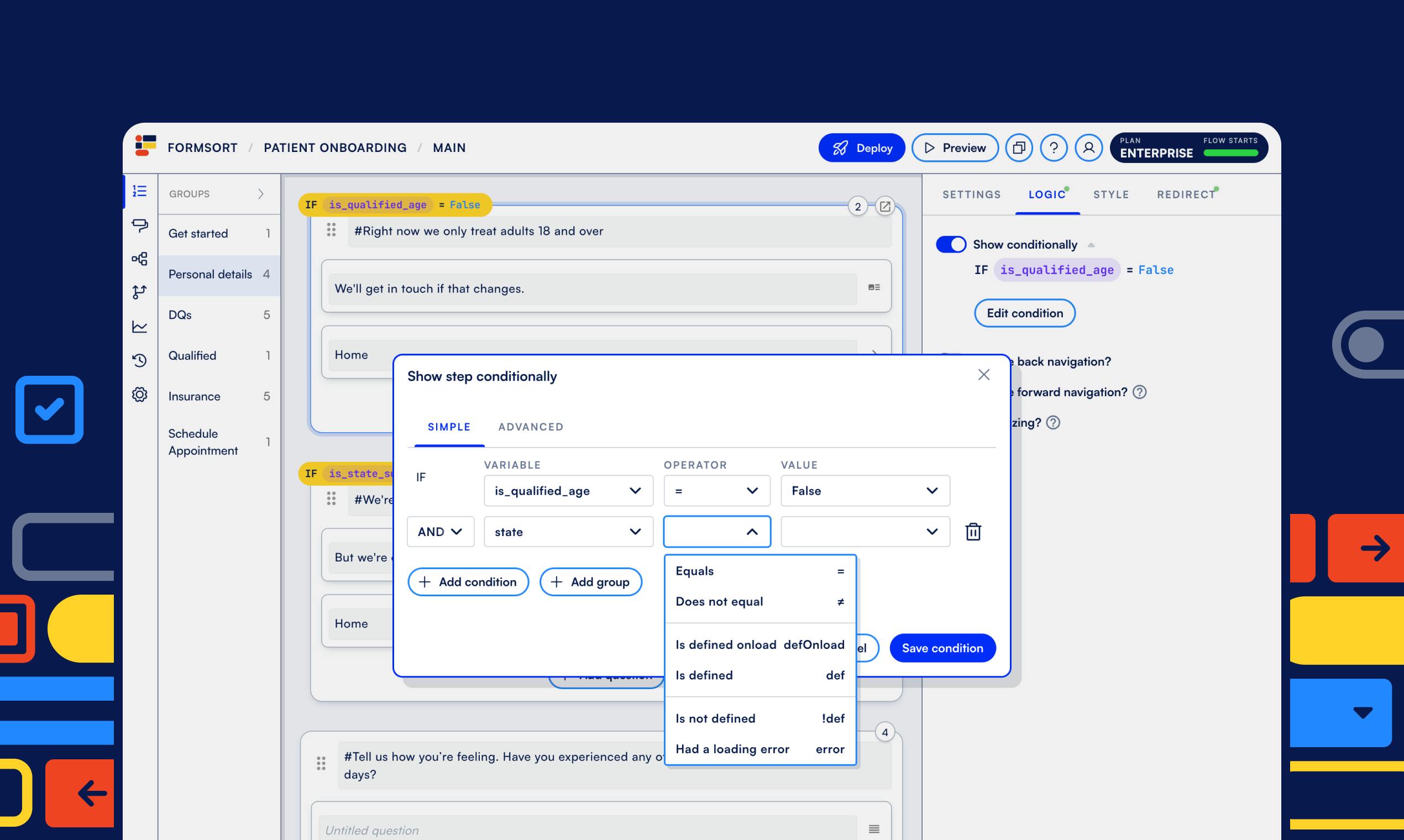 For more complex, real-time calculations - like mental health assessments or drug price lookup - you can develop a calculated variable or populate answer choices from your own backend via API.
Send data to the rest of your tech stack
You should own your data - not us. Our platform has native integrations with the most common data stores: BigQuery, PostgreSQL, Redshift, and even Google Sheets. Use Webhooks for everything else. 
You can also send data to multiple data destinations, pull data back into the flow via custom questions, and ensure teammates don't accidentally break anything with validations and flow-level schemas.
If you want to send data to analytics destinations, we have native integrations with tools like Segment, Google Analytics, Optimizely, and Amplitude.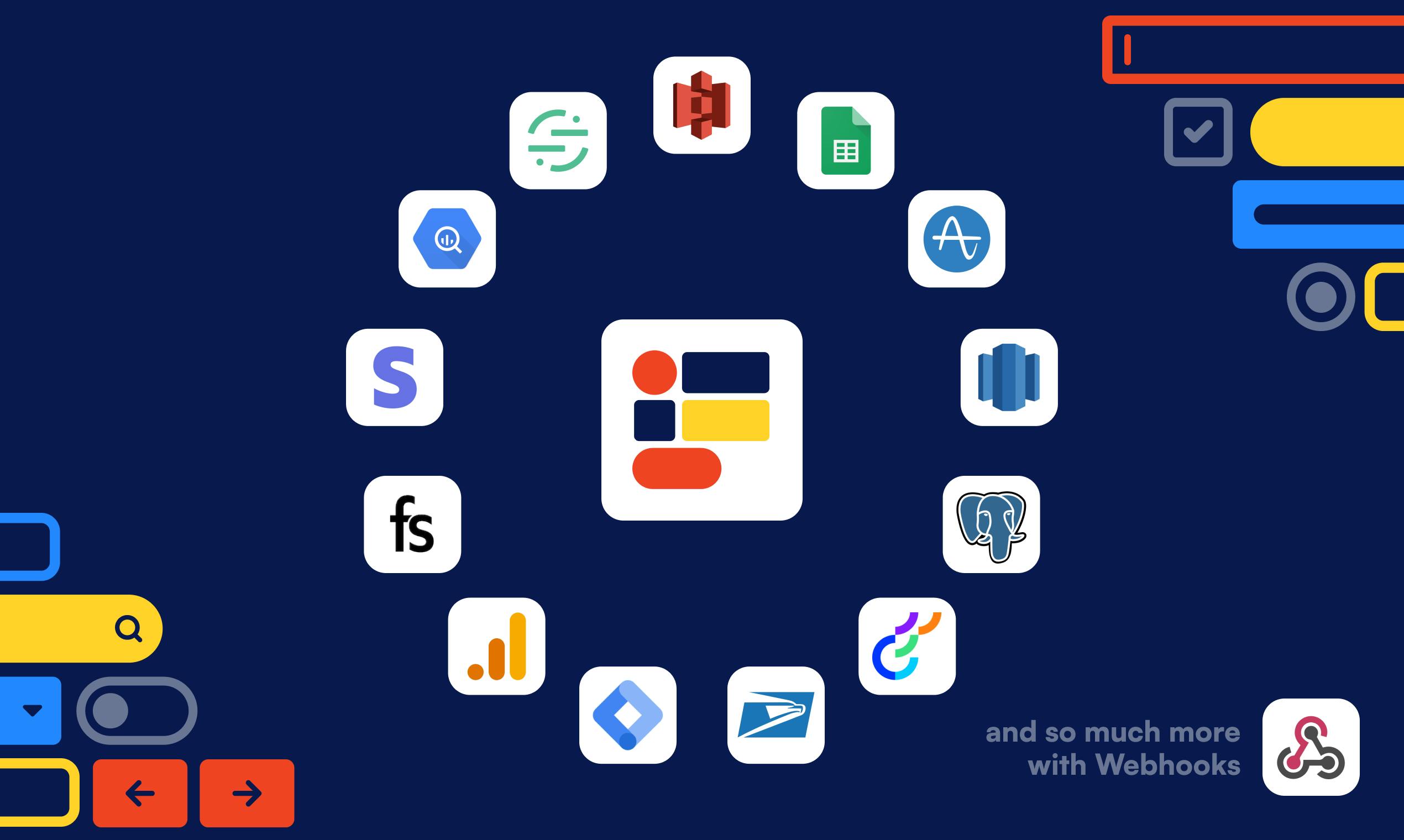 Maintain a high degree of data privacy and security
Data privacy has been a core part of Formsort's philosophy since day 1. Formsort is SOC 2 Type II certified and HIPAA compliant, meaning we'll sign a Business Associate Agreement (BAA) with you.
What teams are building with Formsort
Customers use Formsort throughout their product's user journeys. Check out some use cases below, and learn how customers have increased conversion rates and reduced engineering costs using our platform.
Patient eligibility and check-ins
Allara, a digital healthcare start-up for treating Polycystic Ovary Syndrome (PCOS), builds their onboarding flow and monthly check-in flows using Formsort. Their sign-up conversion rate has increased by over 100%, and their form building time has decreased by 80%. Learn more here.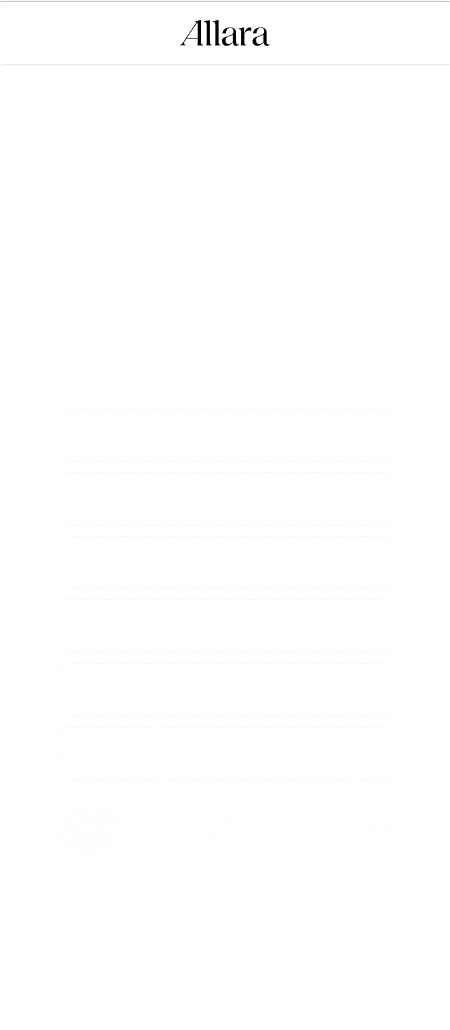 Clinical trial sign-up
Vial is a Clinical Research Organization (CRO) reimagining clinical trials. They use Formsort to power their clinical trial sign-up flows, and have seen completion rates increase by 30%. Learn more here.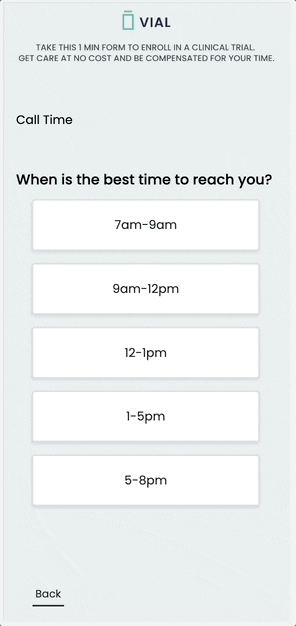 Fintech onboarding
Balance Homes, a real estate technology start-up, uses Formsort to power its onboarding flow and internal sales qualification flow. The team has saved the equivalent work of one full-time engineer. Learn more here.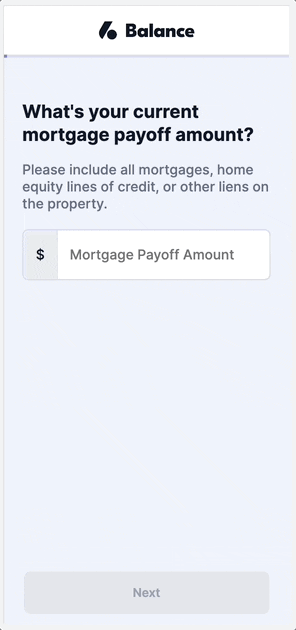 Start building today.
If you or someone you know has a form worth fixing - sign up for a free account, or reach out to sales@formsort.com with any questions. We can't wait to see what you build!